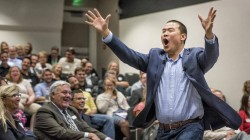 "Experiences like these are a reminder why I have chosen the right career path; it is my hope that the things I do on stage as a speaker or a singer are able to lift someone's spirits, help them through a tough time, or serve as inspiration to move forward to the next level in their life," said Mark J Lindquist.
"We were entertaining in a USO-style show at Bagram Air Force Base in Afghanistan on Christmas Eve. There were a couple hundred off-duty troops in the crowd who had come to the venue to hear some holiday music and be entertained.
"What they probably didn't anticipate was the power that music has to transport you to a different time and place. Think about the last time you heard a song that played on the radio the year you got your driver's license. It brings you right back to that moment.
As we played the traditional holiday music that we've all been listening to since we were little, these troops, the toughest men and women in America, sat in their seats with tears in their eyes. The music took them away, if only for a brief moment that night. For a few minutes, these troops were reminded that the world was made up of something other than war."
Mark J Lindquist is a singer, entertainer, and motivational speaker. He has performed live for over 2.5 million people in 22 countries and 44 states. As a motivational speaker and entertainer, he will be performing in 28 states and traveling 250 days this year.
For 20 years, Lindquist has been inspired by a quote from Stephen Covey's words of wisdom: "If you have a big enough why you can live with any what."
"Up in the middle of the night and I'm not quite sure where I am, and I'm up before dawn for sound check. With that kind of grueling road schedule, you had better know exactly why you are putting yourself through all those long hours, late nights, and hotel lobby microwaveable meals at 1am," Lindquist said.
"For me, my reason why sits in a seat in front of me every third day: the members of my audience. It is their brighter future that keeps me going. It is their undiscovered dream that I may illuminate inside of them.
"It is the woman who came up to me after a keynote speech in Niagara Falls, NY. The other day who said, "Mark, you have changed the future of my family. Thank you." The people in the audience are my why. With the audience on my mind, I can live with any what that comes my way."
Lindquist was born in Ortonville, Minnesota. He watched his father, Gordon Lindquist, as he spoke at town meetings and at church. "I would list to him sing in choirs and wish that I could be that good.
"I think that I'm an interesting case study in nature vs. nurture – as a Korean adoptee, my father and I don't share any genes, but if you met us, you would immediately see that we are very similar. I may not be the best singer, entertainer, or motivational speaker in the world, but throughout my life, I have discovered that those are the best things I have to give the world. Without my dad's example, I'm certain I would never have discovered those gifts."
Lindquist's life was not always so positive. He has been aimless, wandering, and restless. In his mid-twenties he was insecure, unreliable, unemployed, isolated, depressed, and suicidal.
Then, in 2004 – 2006, while living in Fargo, he discovered his passion to perform, change lives from the stage, and hold a microphone in his hand.
"I never settled," Lindquist said. "I kept exposing myself to a new experience. I was never afraid to look foolish when giving a new thing a try. I continued to say yes to opportunities to see where they would lead. I taught myself that I could win at the little thing and continually built my self-confidence back up to a place where I believed I could win in the big things."
"My business manager and I aren't satisfied or stagnant because we know there are an infinite amount of lives to be impacted through our work. In short, when we are asked, "How much is enough?" Our answer is, "More." It is this mentality that provides the framework for my speeches."
Lindquist described himself as a motivational speaker who is implementing his words of advice in his own life today.
"One of my primary examples is my dream to one day sing the National Anthem at the Super Bowl. I take my audiences on a journey that starts with singing for the Fargo-Moorhead Redhawks and then in the NFL, NBA, NCAA, MLB and soon the NHL. In the fall of 2017 I was informed my Major League Baseball that I have been selected as the Cleveland Indians' first choice to sing the National Anthem should they make it to the World Series."
Lindquist commented, "I have long said that all a person needs is someone to believe in them. With that, a person's potential is limitless. In Fargo and all over the country I have been so fortunate to have hundreds and thousands of people supporting my efforts to make an impact in the world.
"The best way I know how to thank those supporters in my life is to go out there and inspire the next audience, give goosebumps to the next group of fans, and bring a smile to tomorrow's audience of dreamers. Thank you from the bottom of my heart for believing in me.
Also, if the Cleveland Indians make it to the World Series, I have been informed that I am their top choice to sing the National Anthem at one of their home games. Major League Baseball has the final say and it is certainly possible that some big, famous singer like Carrie Underwood or James Taylor would get chosen over little old me, but it is quite the honor for a hometown kid like me to even be mentioned by such an organization. Keep a close eye on the American League playoffs, cheer for the Cleveland Indians to make it to the World Series, and tune in October 24-November 1stt to (possibly) see your pal Mark J. Lindquist singing his favorite song, the National Anthem. I'll do my best to make my hometown Fargo proud!"