​Michael Beatrez: new band, new album
by Jack Stenerson | .(JavaScript must be enabled to view this email address) | Music | June 14th, 2017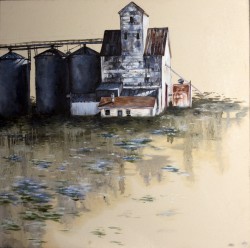 Michael Beatrez is no stranger to the Fargo music scene. For the past few years, his bands Bear North and Sound made a name for themselves with the local college audience. Now, Beatrez has something new to offer. This is The Weeping Covenant.
I had a chance to ask Beatrez some questions about the new project in anticipation of their debut album You're All I Need being released this weekend.
High Plains Reader: You have been in other bands in town before. How did The Weeping Covenant come about?
Michael Beatrez: The first premeditated ideas for The Weeping Covenant were born when I realized I had material that didn't fit into the scope of the band/bands I was currently playing in. In the fall of 2014 I began recording material with Zack Haltvick at Dragon Studios at MSUM. The songs developed over the course of the year, eventually completing a full demo of the album that would soon be refined the following school year.
HPR: This band, along with Bear North and Sound, seemed to have come about because of the music program at MSUM. How has that program helped you as a musician and as a band?
MB: The music program at MSUM has been pivotal in shaping me as a musician. There is a strong emphasis on being well-rounded professionals. I have had the privilege of working with a multitude of musicians that I have met within the music program at MSUM.
HPR: Who writes the music in The Weeping Covenant? Do you bring the songs to the other guys or is it more of a collective effort?
MB: Being the songwriter for The Weeping Covenant, I typically bring the songs to the band fairly structured and allow them to fill out the arrangement as needed.
HPR: Tell me a little bit about the new album. What can people expect from it?
MB: This album was crafted to have some significant dynamics. It begins with soft fingerpicked acoustic guitar and melancholy vocals accompanied by delicate stacks of vocal harmonies, arching in the middle. It features some songs supported by full rock band accompaniment with electric guitar solos and gritty lead vocals. The album cadences with some intimate songs featuring solo voice and guitar.
HPR: Do you guys have any big plans for the new record? Where is the band going in 2017?
MB: Looking into the New Year, The Weeping Covenant will focus on playing solo gigs while occasionally playing shows with additional accompaniment.
To celebrate the album's release they are having not one but two shows. Friday night will be a solo performance at Young Blood Coffee and Saturday will be a full band show at The Aquarium.
IF YOU GO
The Weeping Covenant: solo performance
Friday, June 16
Youngblood Coffee, 623 NP Ave N, Fargo
218-770-4728
The Weeping Covenant album release show, with The New Arizona
Saturday, June 17, doors 8pm, TNA 8:30pm; TWC 9:30pm
The Aquarium, 226 Broadway N, Fargo