​MSUM sure plays a mean pinball
by John Showalter | .(JavaScript must be enabled to view this email address) | Music | March 28th, 2018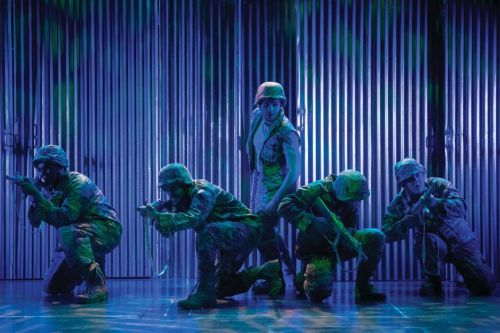 It's probably safe to say that most people have heard of The Who, one of those bands that, like The Beatles or The Rolling Stones, have left an indelible mark on musical and cultural history. With a career spanning over five decades, their music has found its way into television, film, and stage. And of course, if we're talking about the stage, we can't neglect to mention their concept album "Tommy."
Since "Tommy" was unleashed on the world in 1968, the album has seen a lot of exposure. There was a book by Who guitarist Pete Townshend and Broadway director Des McAnuff, a film starring Who vocalist Roger Daltrey as the eponymous character and also featuring an appearance by Sir Elton John, and a musical created by Townshend and McAnuff in 1992. All the adaptations have some plot differences, but the general storyline is similar.
They all follow a 'psychosomatically deaf, dumb, and blind kid' named Tommy who witnesses a terrible crime, becomes a pinball wizard, and eventually leads a cult from the end of World War II into the 1960s. One of the most famous tracks from the album and rock opera is "Pinball Wizard." "That deaf, dumb, and blind kid sure plays a mean pinball." Ring a bell?
Both from a technical and musical standpoint, the musical presents a lot of challenges, but director Craig Ellingson is up to the challenge.
Craig Ellingson is the Director of Theatre at MSUM, as well as the director of the university's upcoming production of "Tommy," which is also their first.
"The show is going to be aurally and visually very interesting," said Ellingson. The rock score's instrumental music will be provided by the MSUM Commercial Ensemble, and all the actors other than two children are musical students from MSUM.
Ellingson said it has been very rewarding "introducing the students to an important piece of theatre and music," and the students have matched that enthusiasm.
Also integral to MSUM's production will be the contributions of lighting designer Jeff Brown, himself an MSUM alumni who runs his own design company in Duluth. "The rock aspect invades the vocal work on many different levels, but the most important design element will be lighting," said Ellingson. Brown's lighting design aims to create the look and feel of a rock concert.
"Tommy" has remained an important contribution to music, art, and theatre for so many years and across several generations for a number of reasons. Its themes of "resilience, hope, healing, and the human spirit," in the words of Ellingson, strike a chord with a number of people.
He also stated that the show remains relevant because, "Unfortunately, issues relating to bullying and violence are still prevalent today; I also think it is that it is about living your own life, living your own story, which is timeless."
IF YOU GO
"Tommy" Wed, April 4 through Sat, April 7, 7:30pm
MSUM Gaede Stage