​New Direction Fest 7
by Jack Stenerson | .(JavaScript must be enabled to view this email address) | Music | February 21st, 2018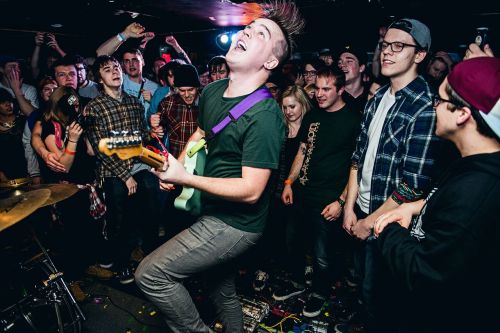 The New Direction had no shows booked in January 2012 so one of our co-founders, Charley Wang, decided to put together the First New Direction Fest out of complete necessity. He reached out to 18 local bands to play our little basement over three nights. It went well enough for us to be able to pay our bills that month.
By the next year, Charley was a new dad, so he didn't have the time to put together the next fest. I took it over and moved it to the end of February, to coincide with the 2nd anniversary of the venue.
Its funny to think back to the fact that it was a struggle to get bands to play. I was barely able to get 18 bands that were willing and available to play. It again went well enough to pay our bills.
That fall, TND was on the brink of closing, but when we were able to stay open there was a renewed passion for the venue and the fest. I opened up the third annual New Direction Fest to bands from out of town as well as locals, and the current fest was born. The passion in the room from both performer and spectator was incredible. It created an energy that fueled the venue for the year to come.
We had two more fests in that basement before it closed. New Direction Fest 4 was just as magical as the year before and New Direction Fest 5 was the most perfect weekend TND ever saw and the first fest to sell out.
After the venue closed there was a lot of uncertainty but The New Direction was more than a building and we wanted to honor that legacy.
New Direction Fest 6 was held at The Aquarium and it ended up being bigger than anything TND could have held. It was a celebration of the former venue, but it was also a look forward to how strong the Fargo music scene is, no matter where the shows happen.
That brings us to now, with New Direction Fest 7 just around the corner. It's our most ambitious fest so far, with bigger headliners and the best talent from Fargo and the Midwest.
We managed to lock in national touring acts Stick to Your Guns and Counterparts.
We have Remo Drive, the Minneapolis band that exploded onto the national scene last year.
We have Household, who just left one great record label and went to an even bigger label in Equal Vision Records.
We have the locals that have made a big impact on this scene including Swing Low, High Hopes, and Crab Legs. We really have something for everyone.
I'm very excited for this lineup and for this celebration of a great venue and an even better music scene.
We are reserving 60 tickets per day to be purchased at the door, so if you can't make all three days you can still get into the day you want -- just make sure to line up early!
IF YOU GO
New Direction Fest 7
February 23-25, 5:30-11pm
The Aquarium (Dempsey's upstairs), 226 Broadway N
All ages; 3-day pass, $30; $12 per day at the door.