​New Track City leaves you wanting more and more
by Logan Macrae | .(JavaScript must be enabled to view this email address) | Music | September 6th, 2017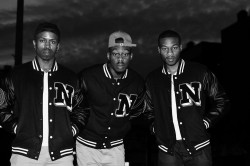 On September 9, The Aquarium will erupt with the sounds of New Track City, Federal Way Washington's very own hip-hop trio that produces their signature sound with a convergence of Jazz, Soul and Alternative. With Bem and Chi.Stone rapping and Dru on the beats, New Track City Brings the heat.
The Washington trio lays everything out on the table, and lets the chips fall where they may. Their all-in mentality produces an original sound that is clearly represented with their two online releases "Spring Exceeds Winter," and the "Damn Gina Tape." In these releases, they blend big band jazz sounds and live instrumentals to produce a sound of their very own.
After listening to "New Track City" for the first time. I was initially enamored. I have been a fan of hip-hop for many years. I grew up in southern Minnesota listening to Atmosphere during the rise of the Rhymesayers brand. New Track City has hit on something new.
Listening to their new release "Lose Sight of Shore" I am transported. The first track "Right now Ft. Falon Sierra" has beautiful minor chords in the background topped with aggressive steady flow, the beat by Dru is a bit reminiscent of older Jurassic 5 while the rhymes are far more rapid and abrasive. This combination clicks and is demonstratively successful.
"Ghetto," the second track, has a rhythmic syncopation that makes you want to rock back and forth whether sitting or standing. It presents the kind of feeling that Kanye busted out with on his album "College Dropout." It's one of the strongest tracks on the album and a personal favorite.
The fifth track on the new release, "More And More," is fantastic. It's the most popular listen on Soundcloud, and for good reason. It's funky, fresh and incendiary. The lyrics and rhythm bring me back to the 90s. It has a vintage feel that strips the overcomplicated production and EDM sound that modern hip-hop seems to be relying on to provide inherent value. The live band is refreshing and the use of jazz and R&B brings another cultural element and successfully blends genres of mobo.
I'm very excited that New Track City is visiting Fargo. I can feel the enthusiasm that this trio has for their music. It is passionately produced and extremely enjoyable. With a music industry obsessed with producing popular music and money-making tracks, genuine artistry is often tossed by the wayside. Bem, Chi.Stone, and Dru have bucked this trend and are producing music with true heart and soul, a feat not to be ignored but to be celebrated. Their respect for the past is also very apparent, and should be glorified.
I recommend heading to The Aquarium on Saturday night to check out New Track City. This crew deserves a listen even if you're not a self-identifying fan of hip-hop. The creativity that spews from all members is personally inspiring and I dare you to make it a part of your week. I hope to see you there.
IF YOU GO
New Track City, Young Therobreds, Coolie and more
Saturday, September 9, 9pm
The Aquarium, 226 Broadway N, Downtown