​Nobody gets to say who is me but me: an interview with Grieves
by Jack Stenerson | .(JavaScript must be enabled to view this email address) | Music | September 27th, 2017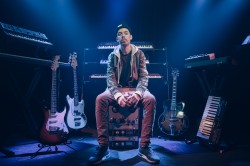 "You're from Fargo so you must know Kipp G"
This was the first thing that rapper Benjamin Laub -- better known as Grieves -- said to me when we started this interview.
He has been to Fargo a handful of times over the last 10 years, a place that he says is very sentimental to him. "It was one of the first places I started going on tour," he said.
He will make his next stop this Monday, October 2nd at The Aquarium supporting his awesome new record, "Running Wild."
The first thing I noticed when listening to this record was the positivity versus his previous projects. When asked about it, Laub said, "Music is a therapeutic source, so you need new things to tap into besides being the victim. I wanted to show the brighter side of my personality. That's the whole point of this record."
You can feel that sentiment from the very first track, called "Postcards." To me, a record is nothing without a great opening track to set the stage for the collection of songs to come. It has an old-school funk/R&B vibe to it with an added flair of modern production.
I asked him about the writing process. "We had a lot of the record together already but needed something with a more vintage vibe. It sounds like a sample but it wasn't sampled. I played all of the instruments and sequenced it like a modern song with -anti-hook' guitars, organs, and vintage synths."
He described the night he wrote it, saying he kicked everyone else out of the studio. So they all went and watched a soccer game while he wrote the song. He said "We recorded everything in Sweden where they are serious about soccer."
When he was done he interrupted the soccer game and their attention went from the game to the song. They all loved it.
With regard to the fans' reaction to the new record and the new positivity, he said, "The reception has been interesting. People either say 'I f*cking hate this' or 'I f*cking love it.' It is inspiring because nobody gets to say who is me but me. It makes me want to dig deeper; it makes me want to do more."
He said he is not done with the darker tone of his other releases, but he does want to be more positive, saying "Nobody has to look back on my discography except for me."
Before we got off the phone I had to ask him if he had any Kipp G stories. He quickly replied, "Nothing you can print."
Catch Grieves at The Aquarium with his opener, who is of course Kipp G.
IF YOU GO
Grieves: Running Wild Tour, with deM atlaS & Kipp G.
Monday, October 2, 8-11pm; doors 8pm, show 9pm
The Aquarium (Dempsey's upstairs), 226 Broadway N