​Off the beaten path with Corb Lund
by Sabrina Hornung | .(JavaScript must be enabled to view this email address) | Music | May 16th, 2018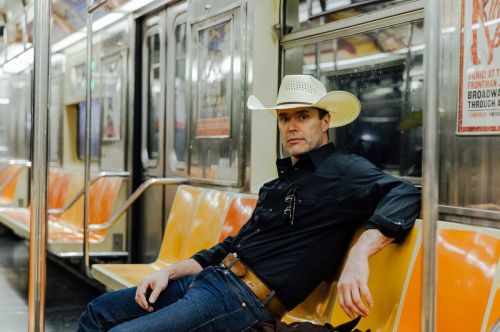 I felt a little silly opening our interview asking Canadian singer songwriter Corb Lund whether he raised cattle or not.
"I'm not home enough to even have a cat," Lund said. "My family has cows. That's kind of the irony -- the more I sing Western music the less time I have to actually live that way.
"That's how I grew up and that's what my family ancestry is based off of. Both sides of my family came from Utah and Nevada in the late 1800s and then moved up to Canada around the turn of the century. I still have relatives that are into ranching in northern Nevada -- we've been raising cattle for generations."
Rodeo too has been a family tradition, his parents, grandparents, cousins and he partook in roping a steer or two.
"It's the original extreme sport, that's for sure," he said. "It beats the hell out of skateboarding."
High Plains Reader: Your music reflects a nod to your western heritage as well as your rock and roll roots. Did you always feel you embraced your country soul or was there a distinct transition?
Corb Lund: Growing up in a western family, I thought that was normal, then I discovered rock bands when I was 15. I guess for some people cowboy stuff is exotic but for me it just feels normal and rock music and stuff like that seemed pretty interesting and new.
When I was 15 or 16 I picked up a guitar and had a rock band for eight or ten years. It wasn't very long after I started to play guitar I started writing western songs too so I was doing both at the same time so there was a little bit of a crossover. I think that's one of the reasons that the songs I write now are a little bit off the beaten path. All of it's cowboy and western music but there's a little bit of a twist on it because of the years I spent writing rock music.
HPR: You're known for your storytelling songs--what do you think is the most effective way to tell a story through song?
CL: It's a tricky thing to combine the two in a way that makes sense and is pleasing. In writing lyrics it's easier to write something that gets the point across and then to make it rhyme and to make it rhythmically catchy and make the melodies. Getting all of those elements together can be difficult at times but that's kind of where the fun is too.
HPR: Where do you draw most of your musical inspiration?
CL: A lot of it's family history. I've got a cast of characters for ancestors--they're almost all from the American and Canadian West. I draw a lot from western themes--ranching and cowboy stuff… gunplay, card games, and whiskey.
I've been jokingly calling my style "Agriculture Tragic." I think I'm the only one in my genre.
IF YOU GO:
Corb Lund with David Allen
Saturday, May 19, 7 p.m.
Sanctuary Events Center, 670 4th Ave N, Fargo