​Party on with Gorgatron
by John Showalter | .(JavaScript must be enabled to view this email address) | Music | April 12th, 2017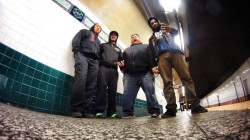 Earlier this year I had the opportunity to interview local metal band Brutalur about one of their upcoming concerts. Their guitarist Nathan 'Natanic' Pehler gave me the great idea to get more exposure for other local heavy metal acts. Recently I had the opportunity to do just that as I sat down with three of the four members of Gorgatron at Duffy's.
Gorgatron is slated to perform at the Aquarium on April 20 with Brutalur, Benefactor, and Jucifer in what's sure to be an ear-splitting, face-melting evening.
Gorgatron consists of Karl Schmidt on vocals, Cam Dewald on bass, Paul Johnson on guitar, and Matt Johnson on drums. Paul and Matt acted like there was a dispute about when the band could be said to have "officially" started, but we reached the truce that the band got its start in 2007 but didn't perform their first show until 2008.
"The whole thing started out way more of a joke," Paul said. "We basically started off with drum machine beats and explosions." The name itself was cribbed from an old episode of the Adult Swim cartoon Aqua Teen Hunger Force.
From there, they got a real, living drummer and went on to record two LPs called "Torturetorium" in 2009 and "Inner Supremacy" in 2015. They are also slated to release a currently untitled EP this summer.
Matt told me that the plan on April 20 is to play all five new songs off of the EP as well as a number of old songs. "We're going to play one song that we haven't played in two years," he said.
So what kind of music does Gorgatron play? "We play a smorgasbord of extreme metal," said Paul, explaining that they run the gamut of metal genres from the growled vocals of death metal to the quick, abrasive riffs of grindcore, but always tinged with a bit of comedy and very tongue in cheek. "We're planning to do some polka metal too," Matt said.
"We're going to start doing SLAMS," Cam said, at which Paul immediately groaned. I couldn't get much more of an explanation of those other than they're just SLAMS, all caps, so stay tuned.
"We're influenced by partying, cheaper beer, action movies, and exercise," said Cam. Paul fondly remembered how, on a previous tour, the band had binge-watched the 1980s sci-fi action film Predator, starring Arnold Schwarzenegger. Of course, after that we spent about ten minutes quoting some of the best lines in Schwarzenegger's star-studded action film career before we got back on track..
Gorgatron was approached about performing on April 20 by Aquarium promoter Diane Miller and were told pioneering sludge/doom metal duo Jucifer was coming through town. Paul said that seemed like as good a time as any to kick off their own tour.
"As long as we don't have to carry their wall of speakers," Paul joked, referring to the obscenely large sound stage that Jucifer puts up for their shows, which dwarfs bands with more members.
Cam expressed admiration for the fact that Jucifer act as nomads, living out of their RV and shuttling from show to show every few months, carrying their food and equipment with them, but otherwise living off the grid.
That night's concert is also the first stop in their own "Great American Thrash & Bash Tour," which will last until May 12 and take them all the way east to Massachusetts, down to North Carolina, and then in a loop back to North Dakota. During the tour they will be performing with Texas Toast Chainsaw Massacre, and on select dates with Goblet and Bastard for Ash.
If you're looking for some live music to blow your mind and want a chance to catch Gorgatron before they hit the road for a month, make sure to clear your schedule for the evening of April 20 and be ready to party.
"We're all about partying and cheap beer," Cam said. "Come see the songs that keep the music industry going."
Paul joined in, "Make sure to come on April 20 for the most brutal metal from the drunkest city in the United States!" With a selling point like that, why miss out?
IF YOU GO
Jucifer with Gorgatron, Brutalur, and Benefactor
Thursday, April 20, 9pm
The Aquarium (Dempsey's upstairs), 226 Broadway N, Fargo