Post Punk Jitters
by Sabrina Hornung | .(JavaScript must be enabled to view this email address) | Music | October 25th, 2017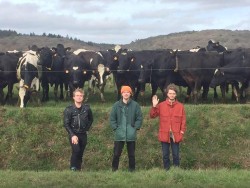 HPR interview: Omni bassist/vocalist/songwriter Philip Frobos
A city's music scene is a mother of invention. With lots of bands working, recombinant bands form and sometimes great songwriting is the result. The best example I can think of right now is Omni of Atlanta. They've been described as "post-punk jitters, but cool," but really they are indescribable.
HPR: Do you have any pre-tour rituals that you tend to stick to before you hit the road? I imagine there's a lot to think about.
PF: Yeah, I usually just try to, like...Atlanta is a wonderful place. It has some of the finest food and beverages and coffee in the country. Oh yeah -- it's no joke. We got some award-winning sh*t down here. I just try to enjoy as many quality things while I can still get them. Today I started with an espresso, and I think I'm going to go get an Italian lunch as soon as I can park my car. And then, hanging out with my girlfriend.
HPR:How did Omni form?
PF: So anyway, we all met from other groups. I was in a label with one of my best friends, called Double Phantom. My old band Carnivores, and Frankie's old band Balkans [guitarist Frankie Broyles] were the best-friend bands on the label. We did a lot of traveling together and whatnot. Usually we lived together, wrote songs, quit our other bands after a break from it all, just started doing Omni just 'cause we wanted to, for fun, and now we're just doin' it full time.
HPR: The sound of Omni is quite a departure from the Balkans...so what informed your sound?
PF: Well, I think just maybe we kind of grew up a little more. I think a big part of music -- hold on, let me articulate this -- I just walked up like five flights of stairs. I think the most gratifying part of writing music is when you get to the point where you can write the kind of music that you want to write -- or you can sound the way you intend to sound, rather than what you haphazardly come out with.
With Omni, we wanted to have a cool, minimal rock & roll band, with clean tones and great Sur Back hooks. And that's just what we did. We're both record nerds.
HPR: There's something refreshing about a lo-fi sound.
PF: Definitely.
HPR: What do you think about being considered a post-punk band? Is that an adequate label?
PF: I think it's a little excessively used for us. It's undeniable that there are things in our music that would fit in the description of post-punk...neither of us ever set out to be a post-punk band. We wanted to be a rock 'n roll band, write interesting rock songs. A lot of our influences are arguably more proto-punk, before you would get to all that. The people who altered music, who created punk, were fans of the same kind of stuff.
It would be ridiculous for me to say I'm not influenced by post-punk, because I am, but with this band, we didn't set out to do that.
HPR: Right. So who are your biggest influences?
PF: I can only speak for myself, because Frankie has such an eclectic taste. We're in the van and I say, 'What is this?' and he's like oh, it's this really cool Japanese 60s pop. For me, the ultimate influence is David Bowie, and from there I really love all Bossa Nova, anything António Carlos Jobim did, especially the reissues of the songs he did with Frank Sinatra.
HPR: Did you grow up playing in bands, or where did you find your musical bone?
PF: I got a bass when I was 14 because my friend in school wanted to form a band, and they already had a guitar player and a drummer. I wanted to be in a rock band too. He was like 'I'm going to be the singer, so you can be the bass player.' I begged my dad to get me a bass. He finally did one day, and we just started writing songs, and I just played in bands around town, until I got old enough to move down to Atlanta. And then we started doing our thing down here.
HPR: Where did the name Omni come from?
PF: There used to be, in Atlanta, the big basketball arena. It used to be the Omni Colisseum. It was this cool, architecturally interesting building. The Atlanta Hawks played there, and there were classic acts, David Bowie, Bob Dylan, Elvis.
We needed a name, and came up with names like 'Worst Thing Ever,' and after a month of going back and forth…
HPR: (laughter) Some groups are casual or very organic...how do you guys write songs?
PF: There's a casual part of it. We like to get together in the same room and play until it sounds good, something we like, and then we put it down. In the past, people thought it was too casual, that we didn't care enough. But we really do care about how our songs come out. In particular, I really care about how the vocals are.
Frankie and I, we do it all together, part by part. We'll do guitar and bass, then I'll do the drums and add the lyrics and the vocals.
IF YOU GO
Omni
Thursday, November 2, 8pm
The Aquarium, Dempsey's upstairs, 226 Broadway North
$10, 21+, 701-235-5913