​Pulling the emotion out
by HPR Contributor | .(JavaScript must be enabled to view this email address) | Music | March 28th, 2018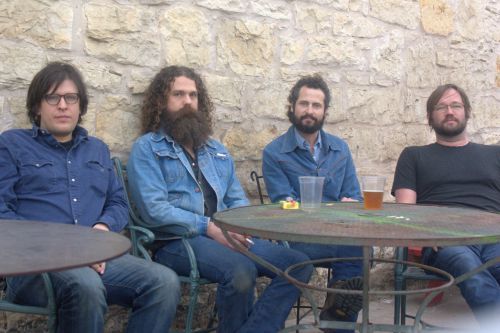 By Octavio Gomez and Sabrina Hornung
octavio@hpr1.com, sabrina@hpr1.com
There's a certain level of intensity, maybe even urgency, behind the sound of the Austin-based mud folk band Lord Buffalo. Their atmospheric sound paints sonic soundscapes as stark as the desert landscapes they're inspired by. It only makes sense that they would catch the ear of Austin filmmaker Keith Maitland and that their work would be featured on the soundtrack for his film "Tower."
"Tower" made it's grand debut at SXSW in 2016, 50 years after the horrific 1966 shootings at the University of Texas at Austin, one of the first mass school shootings in the U.S. The tragedy left 16 dead and three dozen wounded. The 2016 documentary tells the story with rotoscope animation and archival footage. It also includes the previously unheard stories of those who survived that fatal day.
We had the opportunity to speak with Patrick Patterson of Lord Buffalo before their gig at The North Door during SXSW this year.
High Plains Reader: When you're in a scenario where you're being asked to do a musical score for a film, and you know what the film is about, do you have to write the lyrics first, or do you build the music first?
Patrick Patterson: Well, luckily for us, with film stuff it's instrumental. They don't want the lyrics in there. They have to loop it and they have to do things. But it is interesting because film work, a lot of times, a certain character has like a note. You have to do a riff for this character to enter the scene, and a different riff for another character, that has a certain personality.
HPR: So do you do the musical score after the film has been produced, or as the scenes are produced, or for the scenes that are already finished?
PP: Usually kind of both. In this case, it wasn't finished. But the filmmaker was extremely passionate about getting Austin musicians involved--local music...
HPR: You get a film piece and then you say "We need a musical score..."
PP: You get pieces of it, and you write the score, but about the rest of it, you just don't know, and you throw a whole bunch of stuff at the wall, and you're like, okay...here's 15 tracks of what we're doing it's kind of a mediocre slice that you pull out--like do you like this? Do you like this tone? It's hard...
HPR: You gotta know what you'll be presenting.
PP: It's like a musician trying to get a music video to describe what you want to do to a filmmaker, and then a filmmaker who's very film-focused trying to describe what they need musically. Sometimes it's a tough conversation. In our case it worked out really well, communication was open, we got to see little clips here and there. The first time I saw it all the way through was at South by -- we went to the Paramount -- we all watched it together and just -- we didn't know where they placed anything or what they did.
HPR: You had no control over the end result?
PP: No control over the end result, but we put 100% of our trust in what they were doing--because we stood behind what they were doing. We knew they were going to do it right, and they did, and it was fantastic. And we just sat there and...it was crazy...a lot of that stuff you can never play the same way twice. There's a piece where it's just Garrett and I -- I'm playing violin, he's playing guitar, right when the officer is going up the stairs to the tower, deputizing the citizen and they know when they get to the top, they gotta kill somebody. It's tense, man, we're sitting there watching and I was like, I'll never play that song the same way again, it was so emotional. I could never play that song the same--I mean it can really affect your music! It did what it was supposed to do--it pulled the emotion out.
HPR: Did you do a lot of back and forth with them--like you send them a proof and they send you a sample?
PP: It's interesting because with film, you write the full piece of music and they just take a seven second clip of it. You write the same lick but with different themes. I say they only use seven seconds but that's the hardest thing to do! Write an intro, crescendo and bring it to a peak and write a resolve all in 15 seconds. That's hard shit, man, people that write films and commercials and all that stuff are remarkable. You don't think about that stuff. It goes through your brain super fast. Writing a 15 or 30 second piece of music? That stuff is HARD work.
HPR: How did the people producing the film find you guys?
PP: I did some work with them in the past, they did a documentary called "Eyes of Me," that was about the Texas school for the blind." I've done some work with them and they asked me about a bunch of different bands. I've lived here for almost 20 years, so I happen to know some people and they'll just hit you up and ask you if you're working on anything. It's a very supportive town. Filmmakers support each other, musicians support each other. There's not a lot of records sold these days so you gotta get into film work. It's incredibly rewarding work and it's a lot of work but it puts you out of your element, man.
YOU SHOULD KNOW