​Pump up the juice
by Tessa Torgeson | .(JavaScript must be enabled to view this email address) | Music | April 19th, 2017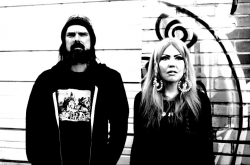 High Plains Reader: Jucifer is incredible and unique for so many reasons, one being your longevity as you've been around since the early 90s, known for your never-ending tour schedule and decibel-crushing, high octane performances juxtaposed with quieter Americana-infused songs. What advice do you have for musicians who are just starting out - about finding their sound, niche, and audience?
Amber Gazelle Valentine: First of all, thank you! And really, the main thing I want to tell people -- musicians or not -- is to explore your instincts freely and develop your own taste and way of doing things. Society puts a lot of pressure on us to ignore our inner voices. But the only real happiness we get in life comes from doing the opposite. When you trust yourself and follow your interests, you'll develop naturally into exactly the kind of person and artist that you've wanted to be. Aside from that, don't limit yourself. Especially for creativity, but also for fandom, belief in rules about having to like or dislike certain things to be cool or correct will destroy your enjoyment. And if we're not enjoying this stuff, what is the point really?
HPR: What musical or other creative projects are you currently working on? It was cool to see your essay in a collection about sense of place. I also saw the trailer for the "Nomads: Built to Destroy" documentary and was wondering when it will come out and where will fans be able to see it?
AGV: We're working on the next Jucifer album. And I'm working on an autobiography. My non-music-related writing is sporadic because in between driving, setups, teardowns, booking and management stuff, and basic life tasks there's not much time or energy. But we made a subscription magazine of my writing and Edgar's photography available on our website last year, and putting that together monthly as well as writing for the essay anthology you mentioned, 'Spirits of Place,' got me inspired. The documentary is another project that's in process. Once it's finished, we'll see about doing some type of independent theatrical release and will make it available on DVD.
We had planned on having it finished already, but went through two family tragedies in 2016 that set us back. Hoping we can get it done within the next year.
HPR: I think many musicians or creatives feel inspired by a nomadic lifestyle such as Jucifer's (the tiny house trend seems proof of people's desire to roam). While it is easy to romanticize; I imagine it is incredibly grueling. How do you deal with the exhausting experience of constantly traveling, carrying and setting up hours of gear, and not seeing a regular support system of friends/family?
AGV: Yeah, I definitely see that people romanticize this life. And that the idea of travel is associated with being free from responsibility -- people have often said, "Oh, it must be great being off the grid," and I'm like, uh, we're not off the grid. We have to do the same mundane stressful things everyone else does, in addition to all the work and instability of constant travel. Being in charge of our entire destiny also means never clocking out. If you're not physically working, your mind is solving problems for tomorrow or next year.
We've evolved to it as much as I think anyone could, after seventeen years of making our roots the road and each other and this band. But it's as grueling and exhausting as you imagine, for sure. In the end it's its own reward. Most people probably wouldn't find it to be enough. For us though, there is daily joy in covering ground and doing our favorite, most cathartic and healing activities together. And every chance we get, we're eating healthy and sleeping. If we didn't work at taking care of ourselves, there's no way we'd have the stamina for Jucifer.
HPR: I know you've faced a lot of sexism in the music industry and even within the subculture scene such as comments on your makeup, clothes, etc. that men wouldn't have to deal with. Have you noticed any improvement the past few years with more gender equality in the scene or improved treatment of women in the scene?
AGV: Maybe. But I think it's pretty slow. Ridiculously slow when you consider how long women have been here -- in music and particularly in heavy music -- and how we're still perceived as anomalous and still almost always prefaced with our femaleness when anyone discusses our work. At least, nowadays, there's the ability for public pushback when really heinous stuff happens. But so many people regardless of their own gender, have consciously or subconsciously accepted these banal misogynistic beliefs and stereotypes that repeat like ripples in a pond. The rhythm of that misogyny is tiresome and erodes us. And it isn't at all relegated to the past.
IF YOU GO
Jucifer with Gorgatron, Brutalur, and Benefactor
Thursday, April 20, 9pm
The Aquarium (Dempsey's upstairs), 226 Broadway N, Fargo