Punk rock puppets and technical difficulties
by John Showalter | .(JavaScript must be enabled to view this email address) | Music | November 16th, 2017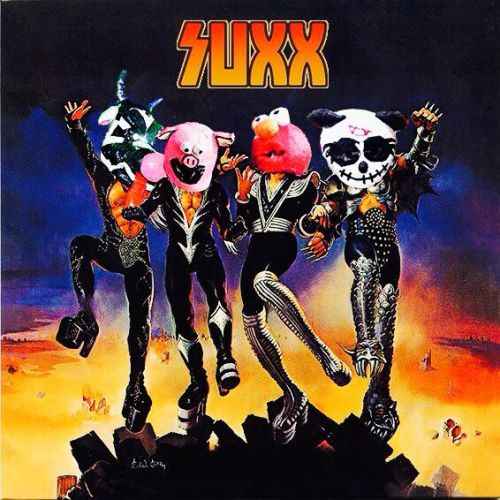 I'm told that there is nothing quite like a live Green Jelly show, where anarchy and foam puppets reign. So perhaps it's in the spirit of the upcoming show that my intended interview with the mastermind and vocalist behind the band, Bill Manspeaker, went off the rails.
The intent was for me to fire off some questions to Bill on Cam Dewald's KRFF radio show. Cam, as well as being the bassist for local death metal outfit Gorgatron, is also a part-time drummer and bassist for Green Jelly. Two other local musicians are part of Green Jelly, as well, Nate "Natanic" Pehler, the guitarist of Brutalur; and Mitch Martin, the drummer for Demifiend.
In fact, Green Jelly is in the Guinness Book of World Records for having the most band members, at somewhere around 770. Green Jelly is as much a state of organized chaos as it is a band, and the constantly touring Bill Manspeaker has band members on reserve all around the country, depending on where he is performing.
Bill Manspeaker called into the radio show and reminisced with Cam and Mitch about how they joined the band.
He also went on a tirade about the scam that is the record industry, and encouraged everyone listening in to "steal every song of mine on the internet."
However, about ten minutes in, Bill's son, named Chaos, ran off with Bill's phone and try though we might, we couldn't get him on the air again. Cam was more than willing to answer some of my questions about Bill and his musical project, all while trying to do his best gruff Bill voice (it wasn't half bad).
Green Jelly got its start back in 1983 with Bill Manspeaker and his friends in Buffalo, New York. "All of my friends were terrible musicians. We just smoked weed and played terrible music" said Cam/Bill. Together they had a singular vision, to be the worst band in the world.
Bill's break came when he drove all the way across the country to Los Angeles to appear on the Gong Show and get gonged, thus sealing his spot as the worst band ever. He got the gong after thirty seconds.
Shortly after, he was approached by a record label with a five million dollar check. Bill put together his own studio (Green Jelly Studios) and recorded the first video-only album, "Cereal Killer."
"We were just ripping off our favorite songs. It got us sued, but it also got us a Grammy nomination." Green Jelly faced their share of legal troubles for doing their own idiosyncratic covers of popular songs and even for their name, which was originally Green Jello, but after a legal spat with Kraft Foods, appeared afterwards as Green Jelly with a stylized umlaut over the Y. You know, like Haagen Daas did, two dots over a letter.
Recording Green Jelly albums wasn't all that Bill did, however. At his studios he also helped arrange the hugely successful KISS reunion tour in 1996 and recorded music videos with popular 90s musicians such as Marilyn Manson. Between 1998 and 2008, Bill called a hiatus on his Green Jelly activities and started a rave club on Hollywood Boulevard called "The Quest," but he couldn't be kept away from his passion for terrible music for long, and he has been touring ever since.
As mentioned before, Green Jelly concerts are a form of organized chaos, and their upcoming show at the Aquarium is no different. Bill tries to get as many people on stage as absolutely possible (Cam reminisced about how someone kicked over his drum set because the stage was so packed).
Not only is there a huge degree of audience participation, but there are puppets galore, often made of nothing more than foam and duct tape and often related to particular songs. In fact, those who show up early are encouraged to make their own puppets for the show and some of those who come on stage will wear giant, garish puppet heads. It truly is an experience that's difficult to replicate and makes every performance utterly unique.
Those who show up are guaranteed to have a punk rock puppet party they will never forget during a night of duct tape and foam-filled insanity filled with comedic, tongue-in-cheek musical humor.
And remember, they are the worst band in the world, and they like to be reminded of that fact, so let them know that "Green Jelly SUXX!"
You should know: Green Jelly say they are playing at The Aquarium this Thursday the 16th of November at 9pm. However, The Aquarium's website says "There were no results found for 'Green Jelly.'"
This may indicate they have no contract or agreement with the Aquarium and mean to invade the stage, take it by force and occupy it. If you go: please let us know what happens.