​Running with The Pack A.D.
by Sabrina Hornung | .(JavaScript must be enabled to view this email address) | Music | October 25th, 2017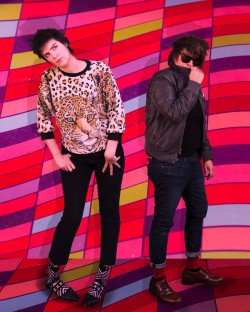 Drummer Maya Miller on reading, writing, and rock n' roll
The Pack A.D. is a dynamic two woman firestorm of heavy psychpop/garage-rock based out of Vancouver, British Columbia. We had the opportunity to catch up with drummer Maya Miller.
High Plains Reader: I've read multiple interview on the Pack A.D. and they all mention that you are highly influenced by film and music--
Maya Miller: We were always that way but I think when we first started out we were a completely different band. We were trying to go for more of a blues thing and ultimately it wasn't really a fit for either of us. When we started we were just so new and wide eyed. I think that we wrote lyrics that we would never write today--that were really not based on anything, but since then we both read a lot and at least the last four albums had one or two songs that were directly about a book that one or both of us had read.
HPR: What are you reading right now?
MM: Right now, I'm reading Hillary Clinton's "What Happened"--it's really really hard to read because I'm just constantly upset while I'm reading it. I think it's really important to read and I think she's being completely fair but it's a tough read because it's still all happening. It's very interesting to read something that feels so present like reading an extended news article.
HPR: Do you foresee a future song stemming from "What Happened?"
MM: I don't know--if there is it will be in our usual very obtuse way. It certainly won't read directly as that but maybe.
HPR: What's your writing process like when you write for an album?
MM: Becky comes up with riffs on her own and she'll record song ideas and then bring them to our band space then I write lyrics on my own. We do a lot of stuff on our own and then kind of just bring it together but this album in particular was a lot of Becky bringing her riffs in and then we just jam it out and create a song. We actually didn't write a lot of lyrics on this album until we were in the studio -- which used to be the way we did things. Lyrics always seem to be the last thing that happens.
HPR: Do you you ever write--like more than lyrics?
MM: I do, before this I was focusing on writing for film and TV and I've written a couple of short films that have gotten made. Scripts and stuff… I've written tour zines for our band and then written a couple of poetry zines so right now I'm really focused on the poetry aspect. One day I'll write a book about the band and being in a band.
HPR: I have to ask...as a two-piece do you ladies ever get offers for bassists?
MM: For bassists? (laughs) Not that often. I could probably say the entire time we've been a band it would be under five people--all men.
IF YOU GO
The Pack A.D.
Sunday, October 29, 8:30pm
The Aquarium (Dempsey's upstairs), 226 Broadway N
$8, 21+, 701-235-5913