The mojo of Scott H. Biram
by Sabrina Hornung | .(JavaScript must be enabled to view this email address) | Music | July 18th, 2018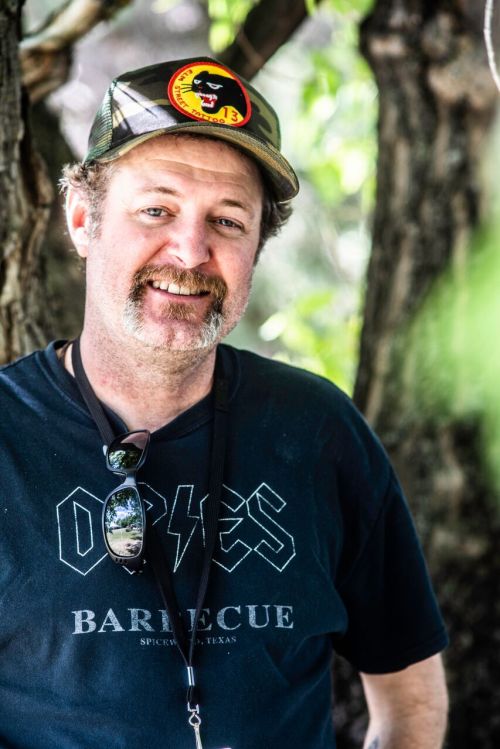 When asked if he's played many folk festivals Texas bluesman Scott H Biram flashed a mischievous grin and chuckled as he gave us a quick "Noooo." As he opened his set on Sunday afternoon he informed the crowd that he was sent to "terrorize folk fest." We had the opportunity to chat with Biram backstage at the Bur Oak stage at Winnipeg Folk Fest.
When asked what his interpretation of folk music was he said, "The traditional way of looking at folk music is looking at traditional music that's passed on and somehow makes social commentary... which is almost the same as the blues. It talks about problems with the world today and stuff like that but there's a pretty broad stroke definition for folk.
"There's really not a definition you have to stick your finger right on. I think roots music is related to folk music. I think blues is related to folk music and rock and roll is loud folk music."
High Plains Reader: In a previous interview you described your style as "Depression era metal." Can you define that?
Scott H Biram: My most frequented genre of music that I play is Delta Blues influenced and related to the blues that came out in the 30s. I call it "porch blues" or "acoustic blues"... the original blues, you know? I'm kind of loud and obnoxious and I yell and I holler and my music has become a mix of many things. That was a good way to describe it. I've been calling it "trucker rock," "country blues and metal..." anything but rap! (laughs)
HPR: You're known for making your own percussive element. Can you describe your foot stomp board?
SHB: I went through a lot of design with that thing over the last 20 years or so. My solo sets were more of a side project 20 years ago. I was just playing acoustic folk songs and blues songs… stuff like Leadbelly and Dylan. I used to just stomp on my microphone stand and I turned the bass up real high on my vocals so it made my vocals sound like crap but I got this great stompin' sound. I've probably had four or five versions of my stomp over the years and I've finally figured it out.
HPR: I read in another interview that you were an art major...
SHB: I got a degree in painting--which was very useful… I think the most useful thing that came out of it was my drawing teacher from college has made my last four or five album covers. I did a lot of collage in college. Some of my songwriting is kind of like that because sometimes I'll have two songs written and neither of them have quite enough lyrics or I might not know what I need to do with something so I'll just put two songs together and sometimes it doesn't really make sense but it works out.
HPR: You're known in some circles to possess a mojo pouch. Can you tell us a bit about it?
SHB: Yeah! My mojo hand. It's a hoodoo kinda thing. It's a little red bag where you keep important things that have certain kinds of energy… There are all kinds of traditional things that are kept in those like a black cat bone, which is like the ninth bone in a black cat's tail. Something called John the conqueror root...different things. It's basically like...a spirit bag or a good mojo bag. I probably shouldn't just keep it in my safe at home but that's where it is now because I'm afraid I'll lose it. I used to have Jello Biafra's phone number in there for my punk rock mojo. I have Carl Perkins pick in there for my country rockabilly mojo. I've got a piece of Muddy Waters' shack in there. This guy from Kentucky gave it to me and I've put a few extra things in there including my coon dick bone collection.
HPR: A collection?
SHB: They're called a baculum. The story is the old Cajuns used to keep them in their hat, keep 'em sharpened and use 'em as a toothpick. I have about four or five of 'em. I had one more but I traded JD Wilkes from the Legendary Shack Shakers for the Carl Perkins pick.
HPR: After playing four days of Folk Fest what's next?
SHB: I'm about to go home and start working on a new record. It will be my eleventh record since 99. My friend Jesse Dayton and I recorded a few songs . We're going to put out a 7" of that. It's full band stuff… He's been on tour playing guitar with Ryan Bingham for the last couple months and we're both about to be home for a while so we're going to try to put a full length album out but we'll see what happens. We're thinking about calling it "Regulators."