​The Vistas: new album, same great sound
by Paul Hankel | .(JavaScript must be enabled to view this email address) | Music | March 29th, 2017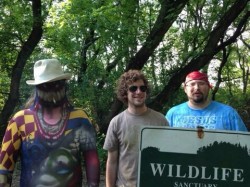 If you've ever found yourself downtown at one of Fargo's music hotspots on a Friday or Saturday night, chances are you've seen The Vistas, the funky soulful jam band made up of guitarist/vocalist Jake Schaefbauer, bassist Grant Wigen, and drummer Eli Davis.
This Saturday night, The Vistas are celebrating the release of their first full studio album with a concert at The Aquarium.
High Plains Reader sat down with two of the band's members to talk music, their style and how The Vistas came to be.
High Plains Reader: So guys, this will be album number….?
Jake Schaefbauer: This will be album number one for us! It's all originals that we wrote and performed.
HPR: What is your songwriting process like?
Jake: We write our music in a collaborative way. Usually, I bring Grant and Eli a song or some lyrics and they fill in the rest.
Grant Wigan: It's a really cool process. If one of us has an idea like a certain riff or hook, it's brought to the collaborative whole and sometimes Jake might take it home and work with it. Otherwise, we jam out until we have something we like.
HPR: How long have you guys been playing shows together?
Jake: This band concept has been going on since 2012. It was a rotating lineup for awhile, but our current band has been together for four years.
HPR: How do you guys all know each other?
Grant: The music scene! I met Jake while I was playing with a different band and Jake's band happened to be playing there at the same time. They didn't have a bass player that night, so Jake asked me to fill in and afterwards we just clicked.
Jake: Then we added Eli on drums about a year later.
HPR: Next, we have to ask you about the local music scene and all the great venues we have here.
Grant: I've been a part of the Fargo music scene for over ten years now and I love it. There is tons of amazing music and so many different genres. Whatever you're into, you can find it here.
Jake: The music scene here is so supportive. Lots of musicians play in different bands and there's so many great venues to play at.
HPR: Talk a little bit more about the notion of 'collaboration' and how that works.
Grant: It's pretty simple….if you want to make an actual living playing music in this town, you have to be a part of several groups. And because of that, we all get to play with each other and grow as musicians.
HPR: The Vistas also play some regional shows and festivals, such as the Bohemian Family Ramble. What is your favorite venue?
Grant: We get to play lots of cool places. I would have to say it's a tie between Dempsey's, The Sidestreet, and The Aquarium.
HPR: Why have you guys been so successful?
Grant: I've bounced around and played bass for tons of different bands. What I've found is that none of those other groups has challenged me the way playing for The Vistas has. We don't really have a genre, we just try everything. It just feels right.
While the members of The Vistas may have changed a bit over time, the style and sound has always remained the same- funky, soulful, collaborative and creative. Which is just how they wanted it to be.
The new album features cover artwork by regional artist Chuck Hues and everyone who purchases a concert ticket will go home with one.
IF YOU GO:
The Vistas CD Release with Alex Rossi and The Human Element
Saturday, April 1, 7pm
The Aquarium (Dempsey's upstairs), 226 Broadway N, Fargo