​Though physically gone, New Direction is alive in spirit
by John Showalter | .(JavaScript must be enabled to view this email address) | Music | February 22nd, 2017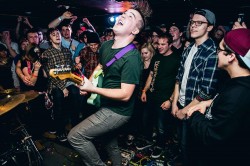 As some of you may know, local venue The New Direction closed back in September 2016. For several years, this small, all-ages venue located below street level Downtown, hosted concerts showcasing talent from numerous independent and local music acts.
Although unforeseen circumstances caused the physical location to close its doors, people are still eager to keep its spirit of supporting local and independent music alive.
I had the opportunity recently to speak with Jack Stenerson, one of the owners of the original venue and organizer of the 6th New Direction Fest, which will take place for three nights, from Friday, February 24th to Sunday, February 26th. This will be the first New Direction Fest to be held outside of the defunct physical venue, but the spirit behind it is still very much thriving.
The New Direction was opened below street level, next to Paradox Comics, in March 2011 by Jack Stenerson, Jed Felix, Charlie Wang, and Rusty Steele. The modest size, intriguing placement, and inclusive, all-ages policy gave ample opportunity for local and independent artists to perform and find a wide-ranging audience.
Unfortunately, substantial hikes in the rent for the property made keeping the venue open unfeasible, and it closed its doors last fall. A large number of people were understandably upset by the news but refused to let it crush their spirits.
They say that birds of a feather flock together, and according to Stenerson, well-loved local venue The Aquarium actually approached him first about the possibility of still holding a New Direction Fest, albeit in different surroundings. "They were very enthusiastic," said Stenerson.
Though the Aquarium generally caters to an audience ages 21 and up (it's above a bar, after all), they were more than willing to cater to the all-ages ethos of The New Direction in this instance.
Over the course of the three nights of the event, there are eighteen bands slated to perform, six a night. All but three of the bands on the docket performed at the physical venue while it was open, and some, like local punk rock act Crab Legs (who have played at every fest), were quite the regulars.
The musical festivities at The Aquarium will not be the only attraction of New Direction Fest, however. On Saturday, the second day of the festival, there will be a punk rock garage sale and record fair at the Lost in Fargo store from 2 to 5pm. People are encouraged to bring clothing, video games, cassettes, and anything else they may want to sell or trade. Later on that night, after the main show is done at The Aquarium, there will be an acoustic afterparty at the same store. People who paid for the performance at The Aquarium can come to this event free of charge.
I asked Stenerson about the possibility of there being a new physical venue for The New Direction, since for the time being the fest is still continuing. "I have no plan to get directly involved in opening a new venue," he said. Though he has heard rumors about there being a search for a new location to open a venue with a similar ethos and devotion to local music, he said it would not be The New Direction. That name, he said, was so inextricably tied to its old venue that a similar effort opened somewhere else would just be a spiritual successor. "The place meant so much to people."
Despite having no resolution to open a new physical venue under the name "The New Direction," Stenerson is still bound and determined to keep the spirit of the place alive. "When we had the first festival, the tagline was, 'More than a building.' That's why having another festival is so important. It's about the community."
And community is more important and has more staying power than any building or lease.
IF YOU GO
6th Annual New Direction Fest The Aquarium (Dempsey's upstairs), 226 Broadway N, Fargo
Friday, February 24: Ghost Bath, Alistair Hennessey, Township, Tigerwine, Baltic to Boardwalk, Grazing
Saturday: Hands, Infinite Me, Benefactor, Wanderer, Salt Creek, Monday Night
Sunday: Unturned, Crab Legs, Stars Hollow, Many Months Left, Triple Deke, Phobophilic
3 day passes are $25 and are available now at Orange Records and www.ticketweb.com. Single day passes will be available for $10 the day of the show.