​Township
by Jack Stenerson | .(JavaScript must be enabled to view this email address) | Music | April 12th, 2017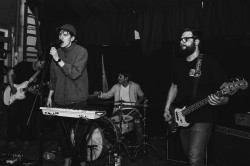 I'm currently in the back of a hot, cramped van driving through the middle of nowhere, Kansas, with the Wisconsin indie rock band Township.
Matt Weinberger, their guitarist, is driving and choosing the music (it's Alistair Hennessy right now). Nicki Halverson, (vocals) is playing Breath of the Wild on his Nintendo Switch, something he has been doing pretty much this whole tour. Ben Wittlinger (bass) is staring out the window watching the countless corn and cattle farms go by. Andy Welsch (drums) is reading a book on his iPad in the front seat.
We have been driving for six hours with at least another two ahead of us. This tour has already taken us through Illinois, Iowa, Nebraska, and Colorado. We will be zig-zagging around the Midwest for another week until we end up in Fargo on Friday, April 14.
The band is no stranger to touring. They have been traveling the country since 2014, playing their music in venues, coffee shops, garages, and basements, to crowds ranging from five people to five hundred. They have been working hard to get their music into the ears of as many people as they can. With their debut full-length now completed, that work is paying off.
Their debut full-length "Impact Bliss" is set to drop on April 28, via Midwest labels Tilde Records and Prairie State Records. While my official review will come later, I can tell you from hearing the four new songs they have been playing live every night, that this record will put them on the map.
Drawing from the indie/emo/alternative roots, Township builds a huge sonic wall with their intricate, spacey guitar riffs, driving bass, and hard-hitting percussion. Subtle yet powerful synth lines are peppered in to pull the whole sound together.
Weinberger says, "We wanted to write something that captured the essence of all the different kinds of music we listen to." They said they draw influences from the dream pop, shoegaze, and post rock genres, especially from bands like Sigur Ros, Diiv, and My Bloody Valentine.
When asked how their sound has evolved from their prior releases, he said "Each release has changed a bit, becoming less pop-punk and more spacey. We have been expanding our experimental sound that was developed between Leap Year [their first release] and the split [with Minneapolis legends Molly's Worst Enemy]"
IF YOU GO
Township with The Knotties, Gneil, and Sons of Mars
Friday, April 14, doors at 6pm
Red Raven, 916 Main Ave, Fargo
$5, all ages, 701-478-7337