​Uhl be fine at The Nestor
by Kace Ayres | .(JavaScript must be enabled to view this email address) | Music | February 22nd, 2017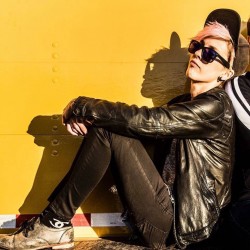 Abisha Uhl, who has fronted Minneapolis-based female band Sick of Sarah since 2005, has recently started a new solo career and will be at The Nestor February 25 to debut her new act in Fargo.
Abisha was born in Bahrain and moved to Okinawa, Japan at nine months old and got her start playing drums before switching to guitar. After graduating from high school, she moved to Minneapolis and founded Sick of Sarah. Sick of Sarah has the distinction of being one of the most torrented bands of all time, having been featured on the BitTorrent Artist Spotlight. She has been touring both nationally and internationally ever since.
Abisha's signature sound is mostly rock with indie and punk influences. Her lyrics speak maturely and sometimes humorously of love and loss or sometimes of nothing at all; but regardless of the topic, Abisha will sing every song like it's the greatest thing anyone has ever heard and perform like there is no tomorrow.
The performance at The Nestor will be something to look forward to. Fancy That and Creatures of Habit will be opening for Abisha Uhl.
High Plains Reader: What drove you to start a solo career?
Abisha Uhl: I wanted to do something different. Something I've never tried before.
HPR: Is it completely opposite of Sick of Sarah or along the same lines as far as genre?
AU: I really want to try to do some different things. Out of my element. I love all different types of music. I wrote all of Sick of Sarah's songs, now I want to write and sing for myself.
HPR: Are you planning on tour with your new project anytime soon?
AU: Yes absolutely. We are touring the East Coast in April and planning on touring the West Coast this fall. We have a few one-off dates lined up as well.
HPR: Are you going to be releasing an album in the next year?
AU: I will slowly be releasing music over time. I'm currently working on an EP right now called Uhl Be Fine.
HPR: Is Sick of Sarah still together?
AU: Currently everyone's doing really great. We're all working on our own things. Who knows what the future has in store?
HPR: Is there a name for your new solo project or are you playing as Abisha Uhl?
AU: Right now I'm going as Abisha Uhl. Shout out to Bryan at The Nestor! I'm looking forward to the show there this Saturday. Jamie Holm will be making a special appearance during my set as well.
IF YOU GO
Abisha Uhl, with Creatures of Habit and Fancy That
Saturday, February 25, 9pm
Nestor Tavern, 1001 NP Ave N, Fargo
$7, 21+