​Ukulele, redefined
by Diane Miller | .(JavaScript must be enabled to view this email address) | Music | November 7th, 2013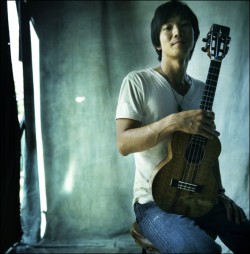 Jake Shimabukuro performs at the Fargo Theatre
Why become a virtuoso ukulele player?
Strangely enough, perhaps the world's greatest ukulele player, Jake Shimabukuro, in part, became one because of a comedian: Bill Cosby.
"One of the things I realized is music is just like comedy. It's just about connecting with your audience — and Bill Cosby is a master at connecting with people," Shimabukuro said from his home in Hawaii.
"There is just something about (Cosby's) performance, his delivery and his presence that just makes you want to listen to every single word that comes out of his mouth."
This Sunday, Nov. 10, Shimabukuro will attempt to get F-M locals to listen to every single note that comes out of his instrument.
Keep in mind that this musician doesn't just chunk chords on the ukulele. In other words, this isn't that "Somewhere Over the Rainbow" kind of ukulele playing that most of us are familiar with.
Shimabukuro treats his instrument as if he were a classical guitarist, plucking each of its four strings with grace and musical sophistication. He can take a familiar piece of music as complex as "Bohemian Rhapsody," "shrink" it to fit the range of a tiny, four-stringed instrument and then miraculously turn it into something nearly as elaborate, beautiful, fun and interesting as the original.
He certainly proved his arranging abilities with his dazzling version of George Harrison's "While my Guitar Gently Weeps." A video of Shimabukuro performing this tune for a New York TV show was uploaded to YouTube without his knowledge in 2006. Today, this video has more than 12 million hits.
"I'll be the first to tell you that the YouTube clip was the one that started all of this for me," Shimabukuro said. "I wouldn't be doing what I was doing if it weren't for that YouTube clip. I mean, of course I'd still be playing, but it would just be probably in my bedroom or in little coffee shops, you know."
So again, why the ukulele? Why not play guitar instead? After all, it has more strings, more sound and seemingly more opportunities. Or the violin — it has about the same pitch range and number of strings as the ukulele, but there is much higher demand for violinists in this country.
Perhaps part of the reason is because Shimabukuro was born and raised in Hawaii, where the ukulele originated, and one was given to him when he was 4. Another reason has to do with his attraction to simplicity.
"I think one of the things that the ukulele has taught me is that you don't need a lot of notes to work with to make music," he said.
So rather than be burdened by the ukulele's limitation, Shimabukuro expands on its strengths by purely experimenting with musicality.
Range doesn't just have to come from the amount of notes you have or how high or low your notes are," he explained. "People just want to hear melody — they want to hear beauty."
Watching a comedy special, spending time with your loved ones or learning about a new culture are just a few ways Shimabukuro said can help generate new, creative or artistic ideas.
"Especially in the arts, it's not just about studying your instrument or music. It's about expression and expressing life experiences. It's about getting out there and having new experiences and doing new things."
IF YOU GO:
WHAT: Jake Shimabukuro
WHERE: The Fargo Theatre
WHEN: Sun., Nov. 10, 7 p.m. (doors at 6 p.m.)
HOW MUCH: $32 or $49 for first five rows