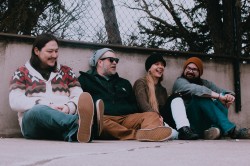 The Human Element of Fargo started off as a cover band by the name of Matty J and Friends in the winter of 2014. Originally the band only consisted of three members -- Matt Johnson, Andrew Overby, and Seth Holden.
But then they played a gig with Kari Marie Steen and everything just fell into place. The group became a new band with their own original sound and now they have their debut album coming out May 5.
I was able to sit down with them and talk about their experiences with the band and the process of making their first album.
High Plains Reader: How has the process of your album been?
Seth Holden: Really simple.
Matt Johnson: It was really as easy as going to the studio and playing the songs that we played. We took a few takes of each one and picked out the best one and that's pretty much what's on the record.
Seth: It's one of those records that makes me think of the term 'warts and all.' It has mistakes here and there, but I think it's kind of part of the shine of the record. We just kind of went in, laid it down and didn't really regret too much of what we did.
Matt: It's a live-track record and we wanted to keep it as live-track as humanly possible. So you live with a mistake here and there, but the overall feel is exactly what we were shooting for. And Shawn Smalley helped a lot. He was really a Godsend for us. He came along when we were trying to figure out the process and he just helped us get the best out of our songs.
Kari Marie Steen: One of the things that was really important from the get-go was preserving that energy and that organic feel that we have when we play on stage. So for our debut album, we wanted to get that energy and capture that off-the-cuff feeling. The tweeking that we've done on some of the tracks is very minimal. It was a very organic experience.
Matt: We got along with Shawn so well that we probably could have gotten the album done in half the time that it took because we were all just having fun and hanging out.
HPR: Your Facebook page says you get inspiration from everywhere. Can you tell me a little more about that?
Matt: The main theme of my writing is probably nature. Being a Native American, it's kind of been a part of my life.
Seth: And doing right by other people. I would say a very heavy, underlying theme of this record is doing right by your fellow person.
Kari: Love is kind of an underlying theme of the album, too. Love for one another, love for your fellow man, love for the environment you inhabit. Spreading messages of positivity instead of living in negativity. But understanding that we come from circumstances in which there is a low, there is a sad time, there is a hard time, but we persevere through those times. Another thing that I think is so great is that each of our own influences has really helped create a unique sound for this particular band and our style.
Andrew Overby: That also kind of goes with the whole F-M community. Everyone plays with everyone.
Matt: So we're just as much ourselves as we are Fargo as a whole.
HPR: What does the writing process look like?
Matt: It's usually really organic. I don't really search out ideas. I really just play the guitar naturally at home. Usually I'll have a complete song ready to go and I'll bring it to the band.
I have a really awesome team and I don't really have to worry about a lot of egos in the practice room when I bring a song. Everyone trusts me a lot and I'm able to have a lot of freedom when I write. I've never really had that.
So I'm able to be myself. That's the biggest thing. I'm able to write music that comes straight, one hundred percent from me.
The songs would not be where they are now without these three people, though. If there were even one of them not there, these songs would not be alive like they are now. People always tell us that when we're together, they notice how we interact and how we truly care and it's just really easy to play music together. It's not really just about the band, it's really about us as a group and a team.
Seth: It's so easy, when he brings a song to us. Not only is it easy because of what he just said, but also because we just know him that well. We know exactly what it is that you're trying to accomplish here and we just kind of end up doing it because we know him that well. It usually doesn't take too long to come up with a really good f*cking product when the session's done.
Kari: We're able to flex stylistically as well. On our debut album we have certain songs that are more jam-oriented, and we have certain songs that are more country-oriented, certain songs that are more rock ballad oriented. So it's been really nice to have Matt come and bring some of these songs to the table. As we become more serious and focused on this particular project, it becomes a family. We are starting to really feel a bond and a camaraderie. We could play in projects until the cows come home, but there's a certain magic that exists when you not only connect musically, but on a person-to-person level as well.
HPR: I was interested in your band name and how you guys came up with that.
Matt: It stems from a conversation that Kari and I had. She comes from a classical background and we were playing a lot of covers that the three of us enjoy, but Kari didn't really know the songs. She was bringing a new approach to the songs and making them different. And we had a talk about that.
Kari: I've done a lot of singer/songwriter, solo performer, choirs and classically oriented stuff. And I always knew I wanted to plug myself into a project. I wanted to be in a band that was organic, that was real, that was down to earth, that wasn't superficial, that made good music played from the heart. And when you do that, you always bring an element of your humanity into that. So that's exactly what Matt was talking about.
Seth: Some of the covers we were playing ended up having an original feel to them because she didn't know where they came from. A lot of bands do covers and they'll either do them verbatim of how it was recorded on the record or the most famous interpretation of that song. But we were playing a lot of covers and every single one we would play didn't ever really sound like the actual song. It was always our own interpretation of it. A lot of times, what we do now is we'll play covers and we'll play them once or twice and be like 'ehh' and then other times we'll play a cover and we'll think that song is f*cking ours now. It doesn't sound at all like the original, it doesn't feel at all like the original, it feels like us. And I feel like the birth of that name still carries on to what we're going to do live.
Kari: And I think it also ties back in again to the family or the community feeling like the human element is what binds us all together. We each bring our own individual strengths to the table and that's the human element too. I have a weakness and you all make me better in that area of weakness.
Matt: We all make each other better.
Andrew: I think another part of it for me is the fact that it's the four of us live. In a world full of over-produced electronical sounds the Human Element is different.
IF YOU GO
Human Element Album Release Party
Friday, May 5, 9pm-2am
The Aquarium, 226 Broadway N, 2nd Floor, Fargo