​Wicked Bees this way come
by John Showalter | .(JavaScript must be enabled to view this email address) | Music | September 27th, 2017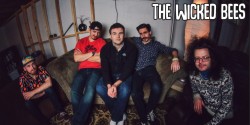 During my time writing for the High Plains Reader I have had the opportunity to discover (and hopefully draw attention to) the fact that we have no shortage of musical talent in the area.
No matter the genre, there are some talented representatives of it somewhere in town. And of course, there's bound to be some creative overlap between musicians as well as friends.
So perhaps it was something akin to fate, or at least happy coincidence, that led me to interview the Wicked Bees several months after my interview with Mr. Meaner. After all, they occasionally share a saxophonist.
The Wicked Bees are a local band who have had their current lineup for about two years. There are currently six members: Dan Christianson on vocals and guitar, Danijel Zeric on saxophone (and who moonlights on the instrument with Mr. Meaner), Josh Wheeler on trumpet, Jake Lynch on trombone, Clyde Schuman on bass guitar, and Andrew Ochoa on drums. Recently I had the opportunity to sit down and interview the first two in that list about their band, future plans, and their upcoming concert with Mr. Meaner at the Aquarium to kick off the latter's tour.
Though they have been classified as ska, Christianson and Zeric are reluctant to be pigeonholed in one musical label. "I wouldn't call us a ska band," said Zeric. "We're ska-infused, but there's some reggae in there."
"There's some Mayer Hawthorne and soul and R&B too," chimed in Christianson. "We're very horny," said Zeric. Because they have lots of horns, obviously. Get your mind out of the gutter.
The events that led to the formation of the band began about five years ago. When Christianson was doing a performance at a music store, their now bassist Schuman started accompanying him out of the blue and they discovered they had great synergy in what was truly a magic moment. The rest, as they say, is history.
At first they performed with a different lineup and a different name "The Skaskank Redemption." They enjoyed success in the local music scene and even recorded an album. Eventually The Skaskank Redemption evolved into The Wicked Bees of today, under which name they also recorded a five-song EP of their best tunes after they won a grant from the Arts Partnership and Jade Presents. The EP was recorded, mixed, and mastered in Minneapolis.
The band has an interesting creative process that makes the most of all six members. Each player has their own strengths, and when crafting a new tune they are generally not content to settle until they figure out how a new track can make the most out of each of their individual talents and inspirations. Though they may all have their own musical inspirations and histories, they always find a way to blend those diverse elements into a harmonious whole. Of course, one thing every song has in common are prominent horn lines. After all, half the band plays horns.
The Wicked Bees are slated to be the third in a four-band lineup at the October 3rd concert at the Aquarium, kicking off Mr. Meaner's latest tour.
The tour will take Mr. Meaner to Nashville, Tennessee and back over the course of thirteen days.
The first performer of the evening is Ethan Rooney, who has a talent for crafting short, clever, and poignant songs about the woes of the world with a folk flavor. Next up is Germ Circus. The third band of the night, of course, is the Wicked Bees, with Mr. Meaner seeing the night off.
"I think this is going to be one of the best ones," said Zeric, referring to the upcoming concert. He looks forward to the potential for the concert to bring in fans of the Wicked Bees who are unfamiliar with Mr. Meaner and introduce them to a different, but certainly no less talented band, and vice versa.
In any case, if you're looking for an interesting and toe-tapping hodgepodge of different genre influences, from jazz and reggae to ska and folk, or even just to see the so-called "Dusty Boys" off on their new tour, you should certainly make plans to show up that Tuesday evening for a great time.
IF YOU GO
Mr. Meaner, The Wicked Bees, Germ Circus, Ethan Rooney
Tuesday, October 3, 9pm-2am
The Aquarium (Dempsey's upstairs), 226 Broadway N