​Wild Hands: 'Growing Like a Weed': a feast for the ears, eyes and soul
by Sabrina Hornung | .(JavaScript must be enabled to view this email address) | Music | February 21st, 2018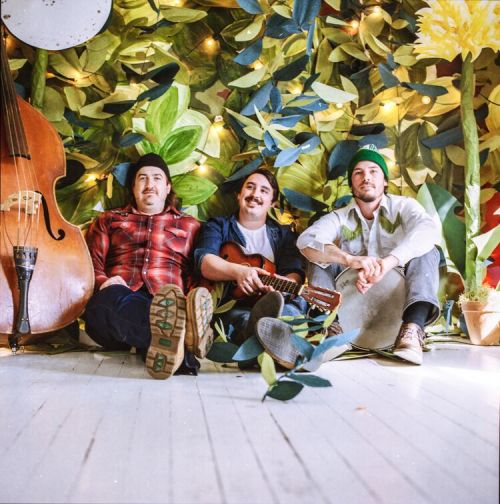 "There is one all-around theme to the record, but each record has its own individual idea, mostly that going back and forth of finding out where home is." said Max Patzner, guitarist, artist and lead vocals of the Minot-based indie folk band Wild Hands. He went on to say, "We wrote these songs over the span of two years while we were traveling, so there's a lot of highway references."
Wild Hands bassist Joe Andrus added, "We recorded it together as a three piece--then added vocals and other things to it. So there are a few parts where I might have tried to dub in a bass part or fixed one thing on a song but I feel like the energy on the songs is a lot better than our last album. I'll take the trade-off of less control in the mixing for tighter group sound."
Growing Like a Weed Part 1 opens with "Wake Up When the Sun's Up," with bright, blended acapella vocal harmonies.Thematically, throughout the album the lyrics radiate optimism, nostalgia, and sweet innocent romance with a tinge of melancholy.
Their ballad "Oh Well" is slightly reminiscent of a Rubber Soul-era Beatles sound and is slightly less optimistic than the tracks on the rest of the album.
The last track, "I Wonder as I Wander," stands apart from the rest, with a surprisingly surf-like sound emanating from both guitar and cello.
After an arduous yet successful crowdfunding campaign last summer, Wild Hands is coming back to Fargo in the wake of the release of their latest album Growing Like a Weed Part 1. The album is one part of a three-part series, all of which are printed on colored vinyl and feature Patzner's original artwork.
The album cover was printed with lithograph ink on offset 1970s-era printers. The album itself is pressed on clear orange vinyl. The 10-inch comes with a CD copy, two postcards and digital downloads.
Andrus joked,"Our fans and friends have made it possible to put out our album without being on a record label, which would entail touring all the time and being more professional than we are."
Patzner's art is as compelling as the group's music and lyrics. He received his art degree from Minot State University. His style is instantly recognizable. It's as breezy, whimsical and seemingly effortless as the band's instrumentation and lyrics.
As a young man, Patzner found part of his musical calling while taking road trips with his mother. They would listen to a fair amount of soft 70s rock, Simon and Garfunkel with a little bit of Nirvana peppered in there. One can easily pick out the Paul Simon influence in the playful whimsicality of the vocal and musical harmonies.
Andrus comes from a family of bluegrass musicians. He grew up playing in the family band.
"The Growing Like A Weed album art is a mixture of the town we live in and how I saw it when I was growing up...and those road trips I went on. I always draw with some naivety...I guess I'm still trying to not grow up." Patzner said.
If you've fallen in love under the prairie sun or daydreamed on a backroad, this album is your soundtrack. It's a feast for the ears, eyes, and soul.
IF YOU GO
Wild Hands at Dempsey's
Saturday, February 24, 10pm-1:30am
Dempsey's Irish Pub, 226 Broadway N; 701-235-5913