​With their forces combined
by Sabrina Hornung | .(JavaScript must be enabled to view this email address) | Music | October 4th, 2017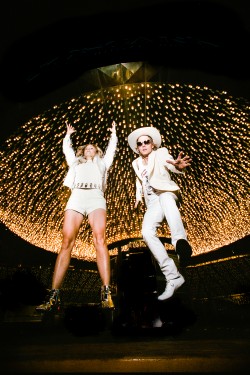 Husband and wife duo Whitehorse at the Aquarium
"The one thing you can control in this industry is how hard you work," says two-time Juno award-nominated Canadian singer songwriter Luke Doucet.
At the age of 14 he set himself on an arduous schedule of guitar practice. He played in bands with his friends and then eventually playing in a band with his father, an accomplished jazz guitarist.
"Not everyone has to approach it as if they're training to be in the Marines. That was the way I went about it because my dad convinced me that I had to practice. It's not the only way to do it but I'm glad I did it that way, and the reason I'm glad is because it's one of the only things you can control. You can't control if you're talented and you can't control if you're popular."
Doucet later moved from Winnipeg to Vancouver at age 19, to work as a full-time musician. He went on to tour with Sarah McLachlan. "It's a good thing I had someone like Sarah around. She hired me and took me on the road -- otherwise I would have starved to death."
From there he went on to play in the indie band Veal, had a successful solo career, started the Toronto Sleepwalk Guitar festival in 2011, and then went on to join forces with Melissa McClelland in the duo Whitehorse. McClelland was a fan of Doucet's and reached out to him looking for a collaboration. They wound up collaborating on a number of albums until they combined their powers and formed Whitehorse
"Our careers were separate but we found ourselves playing together so much, our fans started to expect it; and they would express disappointment if we weren't together. So we kind of agreed that it's best when we play together."
He went on to joke, "The minute you call yourself a band and the minute you pick your band name you take on a new identity--kind of like a gang. Look at us: we wear the same jackets and hang out in the same bars and we're a secret club…bands in a lot of ways are like secret clubs because they're little groups of people that hang out a lot and create art and develop a common identity and a common outlook on the world."
Doucet and McClelland have now been married 11 years and have a young son and a nanny who comes on tour with them. "Jimmy's a really good traveller, his life is pretty adult in the sense that he's quite comfortable being surrounded by adults. He doesn't love his carseat obviously."
Whitehorse gained notoriety as an Americana act, but I couldn't help but halfway joke: is it still Americana if the band is Canadian? "It's music of the Americas which includes Canada and can include Mexico but not everybody knows that. We actually wanted to have a name that reflected our Canadian roots. Whitehorse is a town in the Yukon Territory."
Though their earlier albums were musically Americana-oriented, their lyrics definitely reflect their urban leanings.Think Raveonettes like vocal harmonies with searing Link Ray-esque guitar riffs. "The newest album took a decidedly urban turn and that was kind of deliberate. We didn't want to repeat ourselves," Doucet said.
IF YOU GO
Whitehorse
Tuesday, October 10 at 9pm
The Aquarium (Dempsey's upstairs), 226 Broadway N, Fargo