​Yield up the Ghost
by Sabrina Hornung | .(JavaScript must be enabled to view this email address) | Music | June 14th, 2017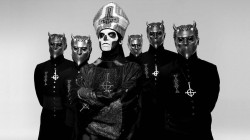 An anonymous ghoul on metal anonymity and Satan
The band Ghost gained notoriety for their highly visual theatrical nature, satanic lyrics and imagery, as well as a mysterious presence in which the band members remain masked and anonymous. All but Papa Emeritus, the lead ghoul on vocals leading his congregation as a skeletal "anti-pope" adorned with mitre-inverted crosses and all.
The High Plains Reader recently had the opportunity to chat with an anonymous ghoul from the Swedish metal band Ghost.
High Plains Reader: What's the metal scene like in Sweden?
Anonymous Ghoul: Vibrant. I'd say it has always been, especially in the 90s when you had the big death metal explosion in Sweden. It really grew into a good growing ground for a lot of musicians and a lot of people who are still professionally playing music. Considering the size of the population, I think it's always been pretty strong.
HPR: This might be a dumb question, so pardon my ignorance--but what is the difference between black metal and death metal?
Ghoul: That has been subject of a lot of arguments. People have always had a bit of a problem trying to decide the difference, but I guess there's one thing that signifies black metal, the use of satanic lyrics; but I think that overall as time has progressed there's definitely like a sonic element that sort of identifies a band, if they're more of a black metal band rather than a death metal band in terms of techniques that they're using. At the end of the day it's like musical differences, much as there's differences between Dixieland jazz and Fusion jazz. It's all jazz--and all that jazz (laughs).
HPR: Is it difficult to conceal your identity in a world of social media?
Ghoul: Long answer and short answer to that is yes. Yes it is.
HPR: I was talking with one of my friends who plays in a local metal band and he had an interesting question, as a musician who likes to remain anonymous, what is it like from a professional standpoint to be a musical entity rather than a name to a face?
Ghoul: It has its ups and downs for me personally. The somewhat concealed identity over the years has enabled me, at least, to think a little bit more objectively and be able to create with not so much consideration as to how I personally will appear.
I obviously write music from the heart. The lyrics mean something, but it's not biographical lyrics about the street that I grew up on. You can have a little bit of a distance from a professional point of view; that is not necessarily a bad thing. Over the years, you cannot neglect the fact that people that are drawn into the rock business or rock music and pop music or any sort of artistry are usually there for exhibitionistic reasons and so am I.
I've always felt that as long as I've been doing Ghost, I've been rewarded, anyways. There are others that have been in the band and out of the band that definitely felt that they weren't given the attention that was their birthright -- so anonymity in the band is not necessarily a natural thing. We'll put it that way.
HPR: I have another question from another friend in a local metal band. What inspires you to create music with such a huge Satanic overtone? Do you think that has hurt or helped you in the long run?
Ghoul: So far it has not been a problem. It all has to be weighed upon what you expect of your musical professional career, and even though I had high hopes for the project and the band, it was never a matter of becoming a big mainstream band. So far, having achieved any sort of mainstream success is just a bonus. If my goal were to become a country / family values sort of artist and I accidentally started writing satanic undertone lyrics then this would be quite a failure, but that was never the point so I don't see it as a problem.
Yeah, of course there will always be people who shy away from looking into a band like ours because of our imagery and our lyrical content, regardless of whatever it might actually be -- but it just looks dangerous, so it must be dangerous.
It's not my thing probably--people might say it is, but I'm sure there are other artists in other genres that have a similiar so-called problem. I don't see it as a pro or a con. This is just what we do and I think we're doing it quite successfully so there's no reason to start changing.
IF YOU GO:
Ghost
Saturday, June 17, 8pm
Fargo Civic Center, 207 4th St N, Fargo