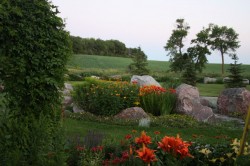 By Lauren Beek
The Rainbow Garden and Sculpture Walk is a beautiful little spot in the North Dakota countryside and is a clear indicator of the strong community that built it.
As soon as you enter the place, a sign proclaims, "The garden is supported and maintained by the people of Mayville-Portland and their friends." The gardens (seven to be exact) are all cared for and run by volunteers.
Sandy Braaten, president of the Rainbow Garden board, is grateful for all the help.
"In a…
---