A new tradition 'Fiddler on the Roof' begins new future for Sheyenne High Theatre
by Jack Dura | .(JavaScript must be enabled to view this email address) | Theatre | February 11th, 2016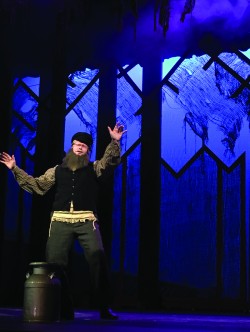 In its first year as its own theater department, Sheyenne High School Theatre is paving the way for the future with a classic from the past.
"Fiddler on the Roof" will open the West Fargo high school's first solo season as its cast and crew latch onto the musical's elements of tradition to build on for years to come.
"Last year, I'd say there was a bit of a disconnect, certainly for the students and maybe myself and our audience," director Adam Pankow said. "This year I think we're coming in with a different attitude about this, not necessarily hanging onto the coattails of another school."
The two-weekend run of the musical tale of Tevye the milkman, his family and the changing times of tsarist Russia rounds up 90 Sheyenne students from onstage to backstage to the orchestra pit.
Capitalizing on a classic can be hard though, Pankow said. "That's kinda the rub isn't it? It is a show people hold near to their hearts."
Sheyenne High pumps its own passion into this timeless show in elements of design and metaphors.
Simple, minimalist trees stretch 25 feet from floor to ceiling, a big symbol for Sheyenne's "Fiddler," Pankow said.
"They cast a shadow over us, these trees. The trees are before us, are around after us—they are a constant," he said. "They are to remind us of the past and the present moving forward."
Other than some creative license with design, Pankow said no roles have been changed or the time period (the Russian Empire, 1905).
"It's a story that honors our own past as people and the journeys our ancestors took over to America or wherever they came from," he added.
"Fiddler on the Roof," a staple of musical theater, Pankow said, concerns humanity at its core, no matter the time period.
"At its essence, it's a story about people and changes and how they cope," he said.
IF YOU GO:
Fiddler on the Roof
7:30 p.m. Feb. 12, 13, 19, 20, 2:30 p.m. Feb. 14,
21800 40th Ave E, West Fargo
$8 adults, $6 students