​Anna Carol accepts position with F-M Community Theatre
by HPR Contributor | .(JavaScript must be enabled to view this email address) | Theatre | October 19th, 2016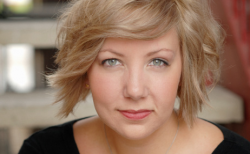 By Amy Venn amyvenn86@gmail.com
Anna Carol returned home to the Midwest after accepting the position as interim Artistic Director with the Fargo Moorhead Community Theatre (FMTC) last week. Carol is a Minnesota native and a graduate of Minnesota State University Moorhead, where she received her Bachelor of Arts in Theatre Performance, Directing, and Dance.
After finishing her first degree, Carol spent some time teaching and performing in Minneapolis, but started to dream bigger. "I knew that for me to make the jump from Minneapolis-based theatre, which I adore, to larger regional theatres, I need to put myself in a place where those contacts could be made," Carol said.
Carol made the move to Orlando and began her Master of Fine Arts in Acting at the University of Central Florida. "I wanted the possibility to teach college- and adult-level students as well," Carol explained, "So pursuing my master's degree at that point seemed like the right answer."
While attending class as a graduate student, Carol also taught undergraduate theatre classes. Simultaneously, Carol completed her certification of the Michael Chekhov Acting Technique; only 74 others hold the certification in the United States. "The technique is about using every part of your imagination and physical body to create honest moments," Carol said.
During her master's study, Carol also completed a residency at the Orlando Shakespeare Theatre as a teaching artist and education associate. Her senior thesis, which included a written solo show, producing the show, performing the show and writing a 150-page research book along with the performance, is where Carol developed her beloved Aunt Nona character.
"She is my North Dakota alter ego," Carol laughed, "I'm so excited to bring her back to the community where she was created."
After three years in Florida, love and long range goals took Carol to New York City where she started auditioning. Her passion soon began to take another form. "I really discovered that I have a lot of interest in arts administration and in arts leadership," Carol said.
And so her path has led her back home, where Carol is eager to explore art administration. "I'm looking for some other opportunities to create and be a part of the arts, but allow me to live in my house more often," she said.
Carol's new position as interim Artistic Director at FMTC is a step in the right direction for her personally. "It's an opportunity to get my feet wet in administrative leadership in a community that I know and that I love."
She hopes to bring a lot of positivity and encouragement to the position. "The experience that I've had in educational, nonprofit and professional theatre allowed me to see that they all function in the same way. And there are ways to help it function more efficiently," Carol explained, "The arts are a collaborative environment. I have such a love and a passion for the Fargo-Moorhead community. One of my goals for this season is to bring the community to FMCT, but also have FMCT support the community."
Carol's passion for artistry is clear. "We want to see each other succeed, right? At least I do," she said recently, "In the world we live in right now there's a lot of ease with cutting people down and I just think that it's so much better to build people up."
"I'm a huge believer in taking chances and I encourage it," Carol continued, "The only way to figure out where you want to be sometimes is if you figure out where you don't want to be. I am also a big believer in action. Dreams are a really great thing, but you have to take the risk and put it into play."
Carol's path hasn't been decided just yet, however. She also has an acting coach business, Joy! Creative Coaching, back in New York City, where she does hope to return. "I will always be a teacher whether I'm doing it in a school or not," Carol explained, "The joy that I have with coaching other students is important to me. It's important to share and encourage other artists."