Keeping it local
by Jack Dura | .(JavaScript must be enabled to view this email address) | Theatre | September 16th, 2015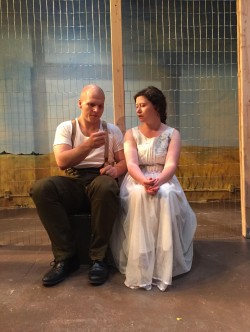 Thirteen is no unlucky number for Theatre B.
The downtown theater company opens its 13th season Thursday night with "The Art of Bad Man," a longtime work-in-progress of playwright Vincent Delaney that premiers in Fargo and Seattle this month. A cast of six tells the tale of German prisoners of war in the Midwest, tying into local history found right across the river in Moorhead.
Over 12 years of research and preparation brought Delaney to this debut. The show is one that Theatre B program coordinator Brad Delzer said is right up the company's alley.
"We're interested in plays that are local stories, local storytellers … and locally relevant," he said.
Delaney said he was working in Minneapolis at the time he conceived the play in roughly 2003. Finding out that over 400,000 German POWs were held in the Midwest pumped his imagination to write a play.
After applying for and receiving a Bush Artist Fellowship, Delaney's idea got legs.
"At that point I was convinced I was going to Germany and writing a play," he said.
Three weeks of interviews in Germany with a dozen German POWs helped Delaney build his idea. The men he met with had diverse feelings about the war, from those who "loved" the Midwest to one unapologetic prisoner, Delaney said.
"There were others that were much more pacifist (but) it was really in between," he said.
POW camps were located across the U.S., but concentrated greatly in the Midwest, including Iowa, North Dakota and Minnesota — including Moorhead.
A collaboration with the Historical and Cultural Society of Clay County and archivist Mark Piehl has shed further light on the (somewhat) hidden history of Moorhead's POW camp.
Piehl interviewed area residents about the Moorhead camp, which Delzer said housed 100 prisoners in its first year and 40 the second year.
Delzer added that many Moorhead residents didn't know about the camp at the time.
"Part of what we're doing is a great connection to local history," he said.
After a few years of debating when to present "The Art of Bad Men," Theatre B selected the play for its Season 13 opener, as part of its Incubator Series.
"We'll work the cast, develop it … so it's both a main-stage and Incubator project," Delzer said.
Past Incubator projects at Theatre B include Fargo-native Stephanie Timm's "Sweet Nothing" and David MacGregor's world premiere of "Scrooge Macbeth."
Incubator Series projects, Delzer said, are for plays that are in development and have certain needs.
While "Scrooge Macbeth" was much more of a raw script than "The Art of Bad Men," the development of a story for the stage depends on the play, Delzer said.
"What does the play need?" he said. "This play needed a premiere."
IF YOU GO"The Art of Bad Men" 7:30 p.m. Thurs-Sat, Sept. 18-Oct 10; 2 p.m. Sun, Sept. 27 & Oct. 4Theatre B, 716 Main Ave. 701-729-8880