​Love story for anybody
by Jack Dura | .(JavaScript must be enabled to view this email address) | Theatre | February 25th, 2015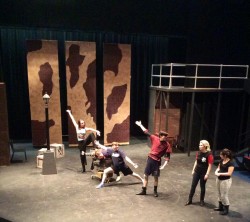 Revamped 'Romi/eo and Juliet' takes a transgender focus at MSUM
For centuries, "Romeo and Juliet" has remained as one of William Shakespeare's most celebrated love stories.
But for Patrick Carriere, theater faculty at Minnesota State University Moorhead, the story has been one of the bard's "most lightly treated" plays, leading Carriere to select a modernized update of the story for MSUM Theatre. The result: "Romi/EO & Juliet," a retelling of Shakespeare's text, taken from the point of view of a transgender boy, Romi, born into a girl's body and cast out by his family.
"It makes it very accessible and understandable," Carriere said of the modern context of the play.
Partially selected to give MSUM students a taste of working with Shakespeare, "Romi/EO & Juliet" was also chosen for the season since it is one of the playwright's "most beautiful" and "most done" plays, featuring poetic language and a relatively easy understanding.
"Many people see it as easy because it's about two young lovers," Carriere said. "Shakespeare really gets at all the dimensions of what … young love is, being immersed in that experience of love."
Looking at this story through a transgender lens with a character who grapples with identity and relationships is nothing Carriere shies away from, as his thoughts on theater as a tool for social change and discussion are embodied in bringing this show to the stage.
"I always view art … and theater as a place where we need to start conversations about society and where we are," Carriere said. "Here we have an iconic love story and a human love story, simply put. It is a very human love story; therefore, it belongs to no particular and individual group."
In taking a transgender turn to this story, the what-ifs of "Romeo and Juliet" are opened up. Who are the Montagues? Who are the Capulets? What if one of the couple of Romeo and Juliet is transgender?
Meanwhile, Carriere hopes not to turn off potential audience members who may not want to attend a play with a transgender theme. Those are the people he most wants to see the show.
"I don't think that it's only the issue of transgender. I think it's the issue of a person in love who is transgender, as opposed to cisgender," Carriere said. "That is one of the many elements about that person that is important to Romeo in this play. It is not the only defining element of Romeo."
Eighteen cast members present this play through Saturday at MSUM's Gaede Stage. With a large cast for such "rich, rich, rich" characters as Shakespeare's, the show is a big one, and it will feature talkbacks following performances on the issues seen therein.
Carriere added there is adult content in this production, but the original text and themes are present, offered up with the dimension of transgender in one of its characters. The centuries-old love story is there in all its glory.
"Part of what 'Romeo and Juliet' is, it's about passionate love."
IF YOU GO
"Romi/EO & Juliet"
7:30 p.m. Feb. 25-28
MSUM's Gaede Stage
218-477-2271