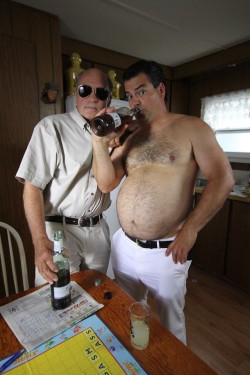 Villain characters from 'Trailer Park Boys' to perform The Aquarium
"Julian is a jerk. He's a money-hungry, narcissistic rum-swilling jerk. Ricky is dumb as a post. Bubbles is an idiot savant, a lovable character I suppose. Lucy has no morality whatsoever. Corey and Trevor are idiots!"
That quote comes from John Dunsworth, the man who plays Jim Lahey, the primary villain—or the guy who "stirs the shitpot," to borrow one of his terms—on the TV series Trailer Park Boys.
"Lahey is one of the only characters where I've never done any deep research," Dunsworth said. "He isn't the fool because he pays the price for his stupidity. Lahey is a pathetic character. I've played Shylock sympathetically. I've played Charles Manson sympathetically, believe it or not. I'm always looking for the humanity. With Lahey there is no humanity."
Of course, Dunsworth is talking about the fact that Trailer Park Boys, and the character he's best known for, appear to lack any redeeming qualities. The show, which is about to unveil its ninth season on Netflix, is focused on pathetic characters, but human beings can be pretty pathetic. The damage wrought by greed, avarice, stupidity and more are on full display in a run-down microcosm called Sunnyvale Trailer Park, and it's extremely funny.
The series presents the story of three aforementioned anti-heroes. Julian (played by John Paul Tremblay) is the brawny brains of the Trailer Park Boys universe. He commands ridiculous criminal enterprises with one hand while balancing a glass of rum in the other. Ricky (Rob Wells) is his comically dumb friend who has a remarkable talent for growing pot and producing hash. Bubbles (Mike Smith) is a kitty-loving goofball who reluctantly gets swept up in the mayhem.
Mr. Jim Lahey, a trailer park supervisor and raging drunk, along with his pal, Randy (Patrick Roach)—a shirtless, big-bellied, burger-loving assistant trailer park supervisor—play the bad guys who try to stop the other bad guys.
The character of Lahey is the vehicle for many of the show's most outrageous moments involving profanity, nudity, scatological philosophy and subterfuge, much of it fueled by his almost superhuman thirst for liquor. In real life, Dunsworth doesn't even drink, but the man has elevated on-screen drunkenness into a comic art form that few can match.
"I used to be a little concerned about being a poster boy for alcoholism," said Dunsworth. "But Mike Clattenburg said, 'This is a story about losers.' And people actually come up to me and tell me about how Lahey actually helped them kick their problems with alcohol, or made them laugh during a really tough time."
In the last 15 years, the show's popularity has grown from a raunchy, Canadian cult comedy to a worldwide cult phenomenon. There are Trailer Park Boys specials, feature films, as well as a number of touring live shows, one of which is hitting The Aquarium this Saturday.
"I have tried to figure it out," Dunsworth said of the show's appeal. "I can't. I ask people. They say because it's funny. I ask why. They say because it makes me laugh. My feeling is that it's the first show that had bad language that's sort of tossed off as if it weren't. There is actually research out there that shows if you bang your head and you swear, it actually lessens the pain. You can hold your hand in a bucket of ice-cold water for 30 seconds longer if you swear. Somehow it alleviates pain. So many people have said, 'You got me through some really tough times.' I don't know what you'd call it. Magic? God? Love? I don't know!"
Trailer Park Boys fans are in for a treat on Saturday. The Randy and Lahey Show, which started 12 years ago, is described as a "a silly and drunken hour of songs and skits, audience participation, profanity, Shakespeare and general hilarity."
"Somebody invited us out, and we cobbled a show together and it was well-received," Dunsworth said. "Every time we do a show, we add material and fine-tune it, but we have a progression that we run through, with skits and songs and audience participation … about 30 percent of our show is off the cuff, which makes it better. When Randy goes off he's the funniest guy in the world."
Dunsworth said variety and fast-moving acts keep audiences interested.
"When Randy and I are on the stage, we just keep it moving," he said. "If the audience gets control it becomes a little bit of a shit-storm, but it's great when you can get it quiet, and it's great when we get them singing in unison. Randy is so funny. I almost pee myself up there … You're flying by the seat of your pants up there and it's all up to you."
The different live acts have been a big hit with fans. Dunsworth said Trailer Park Boys is at the point where, if they wanted to, the show could shut down and tour, though he doesn't see Trailer Park Boys ending any time soon. A recent show in Finland sold out in 10 minutes.
Dunsworth isn't just a Trailer Park Boys cast member. He's a respected Canadian actor and teacher. He's a self-described "renaissance man" who is working on a novel, paintings and more. If you can't see the humanity in Jim Lahey, it's certainly there in his other projects, such as his short films on YouTube. There you can watch "Get a Hobby: Work With Rocks and Cement Like John Dunsworth" or video documentary called "This Is Jim Cleveland" and get a completely different sense of the man.
For a guy who does such interesting work outside of Trailer Park Boys, does the outrageous antics of Jim Lahey ever give him pause?
"I always go for it," Dunsworth said. "In season two of 'Haven' on SyFy (where Dunsworth is also a cast member), we had Ed Asner in our last episode. He's 87 years old and still acting. William Shatner was our guest star on 'Haven' as well. Snoop Dogg will be on Trailer Park Boys. Whenever you get stimulus from new blood, it makes you reach a little further. And you're always going for a bit of notoriety, so competing with Ricky, Bubbles, J-ROC … I'd be a wimp if I didn't go for it."
IF YOU GO:
Randy and Mr. Lahey LIVE
Sat, May 30, 9 p.m.
The Aquarium, 226 Broadway, Fargo
$25 at ticketweb.com