NDSU: 'Cat on a Hot Tin Roof'
by Jack Dura | .(JavaScript must be enabled to view this email address) | Theatre | December 9th, 2015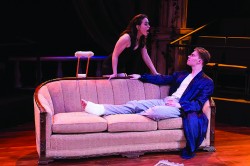 Jess Jung feels little to no pressure to live up to the classic "Cat on a Hot Tin Roof."
The 1958 film starring Elizabeth Taylor sees its stage adaption take shape at North Dakota State's Walsh Studio this weekend, the second half of its two-week run. Starring six students in the round with 80 seats per show, this "super intimate" telling is set in this new era, its director said.
"I think the movie is in the style of American realism of that time, kind of high emotion and metaphor, kind of a heightened style of acting that you don't see very often today," Jung said. "And our version … is more contemporary in terms of acting style. We're going for super realism."
Audience members are "extremely close" to the action, Jung added, as characters look into mirrors, walk between rooms and interact in a small environment with hot lights over them and darkness outside the stage's edge.
"Tennessee Williams takes us on this huge, epic journey of heightened, turbulent theater," Jung said.
Maggie (Taylor Fay) and Brick (Austin Koenig) are a fractured married couple as the wife is childless and the husband is alcoholic. Maggie's desire for a child is met with indifference from Brick, who continuously hobbles around with his crutch to the liquor cabinet, soaking his mind in whiskey.
Meanwhile, Brick's father (Sam Olson) faces his own mortality as he learns his spastic colon is something more serious.
Brick's brother and sister-in-law add further fumes to the story with snide remarks in their sticky-sweet Southern speak.
"This show is all talk," Jung said. "To keep that alive in a theatrical space … is a challenge because of the way I believe contemporary audiences are built to watch things. … A lot of the theater being written today is heightened or turbulent in a way."
Jung said she cut an hour from the show, including a few characters and repeated and elongated conversations.
"I haven't cut any of the storyline but I cut what I felt could be," she said, adding that some background noise was inserted into the show to fill some gaps left by the cuts.
Theatre NDSU's "Cat" is also a bit of an update in its characterization.
"Our Maggie is just different because she is a contemporary actor taking those lines and making them her own," Jung said. "She's also a little bit sexier than Elizabeth Taylor, a little more risqué."
The setting, in the round, is also a different take, as Jung worked to create a new experience for audiences and actors.
"My goal was to make the audience feel like they were seeing something personal," she said.
IF YOU GO:
"Cat on a Hot Tin Roof"
7:30 p.m. Thu-Sat
NDSU's Walsh Studio Theatre
Call 701-231-7969 for tickets