​NEW BLU-RAYS REVISIT UNDERRATED COMEDIES
by Christopher P. Jacobs | .(JavaScript must be enabled to view this email address) | Theatre | March 31st, 2016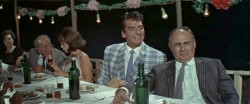 Last month a couple of overlooked comedies from the mid-60s and early 70s made their Blu-ray debuts. Both were box office disappointments when originally released and continue to elicit mixed responses, but have gained fans over the intervening decades.
Peter Sellers and Victor Mature star in "After the Fox" (1966), Vittoria DeSica's entertaining satire on heist films, Italian culture, and the magical power of movies themselves over the public, filmmakers, and critics. Neil Simon adapted his own stage play, but the film feels far more Italian than typical Simon, likely because DeSica's noted longtime scenarist Cesare Zavattini co-wrote the screenplay.
The trendy pop score is by Burt Bacharach with lyrics of the title song by Hal David sung by the popular rock group The Hollies (along with Peter Sellers). The film's infectious and nearly continuous sense of play makes it so much fun to watch that it's easy to forgive a few spots that drag, become repetitious, or seem like they're trying just a bit too hard.
Sellers plays Aldo Vanucci, a criminal mastermind and master of disguise who is in prison as the film begins. He soon finds a clever way to escape and return to his hometown where he discovers his movie-mad sister (Britt Ekland) wants to become an actress. Meanwhile a fortune in gold bullion stolen by another criminal named Okra (Akim Tamiroff) is being shipped from Cairo to Italy, and he knows Vanucci is one of the few who could help him smuggle it into the country.
Vanucci decides he will pass himself off as a famous film director, Federico Fabrizi (looking a lot like Fellini), shooting a movie about a gold theft. To make his scheme seem legit, he convinces a fading but still popular American star (Victor Mature) to play the lead. His plan is to get the naïve, starstruck residents of a coastal village to bring the gold ashore for him for free, believing they are extras in the key scene of his fictitious film. As part of the process he steals film production equipment from director Vittoria DeSica (playing himself), who happens to be shooting an Egyptian epic.
Sellers is hilarious, as usual, reveling in the various characters that his character gets to play, especially the flamboyant movie director. Simon's dialogue is full of great one-liners made all the funnier by the actors' delivery and timing (many by usually dramatic actor Martin Balsam as the cynical agent for Victor Mature's character). Mature has often been underrated as an actor but here shows he can poke wicked fun at his own screen image yet is able to make his character both a gullible laughingstock and a poignant has-been struggling to maintain his career.
The largely Italian supporting cast provide wonderful foils for the leading characters, notably comedian Lando Buzzanca as the bumbling small-town police chief dying for a speaking role in the fake movie. And the big courtroom sequence near the end has something in it for all movie lovers.
Kino's HD transfer has very good picture and sound. Bonus features are a brief introduction by Larry Karaszewki and three trailers.

AFTER THE FOX on Blu-ray – Movie: A- / Video: A / Audio: A / Extras: C-