Out of the comfort zone, into the garage Two-man show in "different" production
by Jack Dura | .(JavaScript must be enabled to view this email address) | Theatre | September 9th, 2015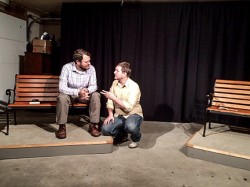 For Tim Larson, the Theater Lab is all about uniqueness.
The new theater company gets off the ground in the next two weeks with its first production, offering a show with different staging, a small cast and a stretch of the imagination. "The Zoo Story," the Theater Lab's premiere show, takes its viewers outside the average concepts of theater, its director said.
Of course, any show staged in a garage will take most audience members outside their impressions of theater. And maybe even their comfort zone.
"The garage certainly has an appeal to it," said Larson. "I think with something like this, it's a little more unique. You're required to walk down an alleyway, enter in a gate and go in our garage space there."
Forget the aisle seating and descending steps to find your chair; the Theater Lab's garage stage holds about 35 people at a time, Larson said. But that's where the engagement comes in.
"This show has a unique message and the way that we are doing it has a unique message that applies to our culture today," he said. "Engage with people differently and more directly."
"The Zoo Story," a one-act play by Edward Albee, takes two men on a park bench and follows their first interactions and striking connection.
"Peter, an introvert, prefers to read his book, but Jerry pushes him out of his comfort zone a bit."
The characters' implicit message of live interactions and engagement is what Larson hopes bleeds through to his audience members. After all, he's playing Peter, and he wants to see the Theater Lab's first show leave a mark.
"You remember those interactions that you have with people on the street," he said. "Those are the things that people remember."
With limited seating available, Larson said anyone interested should message the show's Facebook page to make a reservation. Tickets are $5, and are first come, first served.
If you can't make it to any showings, never fear, Larson said.
"If people enjoy the show, there's always potential to extend it."
In the meantime, Larson said, "Step away from Facebook on occasion and sit down with someone and have coffee and interact."
IF YOU GO
"The Zoo Story" 8 p.m. Sept. 11-12, 18-19 $5 tickets at the door; reserve seats on Facebook 1125 Second Ave N, alley entrance