Pretty and gritty MTFM ushers in season 11 with Kander and Ebb's "Cabaret"
by Jack Dura | .(JavaScript must be enabled to view this email address) | Theatre | October 15th, 2015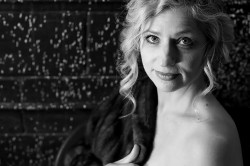 With its latest production, Music Theatre Fargo-Moorhead steps forward into its next 10 years.
The local musical theater group brings Kander and Ebb's "Cabaret" to The Stage at Island Park the next two weekends, offering a few new looks into the old favorite starting the company's 11th season.
For starters, MTFM ensemble member Craig Ellingson said this stage version is not too much like its 1960s predecessor, but it is based more on the 1998 Broadway revival.
"The '66 version kept it kinda squeaky clean," he said, "and for the audience at the time, that was gritty for them, and now in the 2010s, our contemporary idea of 'gritty' has changed a bit."
The book-based musical is set in 1931 in Weimar Germany as the Nazi Party is gaining power. Nightlife happenings at the Kit Kat Club and a relationship between a writer and performer highlight the show, featuring much song and dance.
"Cabaret" is often paired with "Chicago" as standouts of Kander and Ebb's catalogue, and MTFM's "Cabaret" follows its "Chicago" production put on in fall 2011.
"I think in reality, we try to gravitate toward powerful pieces of musical theater," Ellingson said, "and it just so happens both of Kander and Ebb's pieces, 'Chicago' and 'Cabaret,' are really outstanding examples of what musical theater can be."
A "really strong ensemble cast" is set to give "some fine performances" in "Cabaret," Ellingson added.
MTFM's lineup includes old favorites such as Kathy Hanson and Steve Poitras and familiar faces like Cody Gerszewski and Pam Strait, Ellingson said.
"It should be a visually beautiful show, aurally the music is going to be beautiful … and there's just some really fine actors in the company as well," he said. "We're trying to hit that triple threat.
Sixteen people comprise the cast, including Ellingson, acting as the musical's emcee.
"I think it's going to be a very tight show," he said.
Ellingson added that though some changes and alterations are present here, audiences shouldn't be too concerned about the storyline.
"We are really excited about the wonderful opportunities there are for some wonderful song and dance but then just the … 'meat' of the story," he said.
Ellingson also said that viewers shouldn't expect "Cabaret" to be another happy-go-lucky musical theater piece or that they'll shoehorn its songs into the same sentiment.
"I think that there are times where in musical theater everybody thinks everything has to be happy and lighthearted," he said, "and this is definitely not one of those pieces even though there are some happy and lighthearted moments."
IF YOU GO
MTFM's "Cabaret" 7:30 p.m. Oct. 15-17, 22-24, 2 p.m. Oct. 18, 25
The Stage at Island Park, 333 Fourth St. S. 701-235-6778