​"Proof": prize-winning drama at Concordia
by Brittney Goodman | .(JavaScript must be enabled to view this email address) | Theatre | October 12th, 2016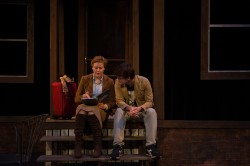 Photo by Maddie Malat
Concordia College Theatre kicks off its season with a performance run of playwright David Auburn's 4-character play, "Proof." Proof examines themes of mental health, gender, relationships and trust. This show is intended for mature audiences. The show kicked off Tuesday, and remaining performances are at 8pm on Thursday, Friday, and Saturday with a 2pm matinee on Sunday the 16th.
The plot of "Proof" revolves around Catherine, a mathematician; her recently deceased father, Robert, a talented professor of mathematics who suffered from mental illness; Hal, her father's protegee with whom Catherine has a relationship; and Claire, Catherine's sister.
The title is derived from Catherine trying to "prove" the authorship of a mathematical proof found in a notebook her father left behind. "Proof" won the 2001 Pulitzer Prize for drama and the 2001 Tony for Best Play. During its New York run, Mary-Louise Parker, Jennifer Jason Leigh, and Anne Heche have all portrayed Catherine. Josh Hamilton and Neil Patrick Harris have also played the role of Hal. It has also been adapted into a film, directed by John Madden and starring Gwyneth Paltrow, Anthony Hopkins, Jake Gyllenhaal, and Hope Davis.
The play has been successful on and off Broadway. Mary-Louise Parker has starred in the Catherine role, as well as Jennifer Jason Leigh and Anne Heche. Josh Hamilton and Neil Patrick Harris have also played the role of Hal.
David Wintersteen, Director of this production, thinks that the play is a good fit for Concordia and Fargo-Moorhead audiences because it is "a great story worth telling to new audiences" and it is "a beautifully crafted play with fully drawn characters, big ideas, and exciting dramatic action."
Wintersteen is the Director of Theatre for Concordia College and is an ensemble member of Fargo's Theatre B. Prior directing credits include "Dracula," "The Metal Children" and "The Long Christmas Ride Home" at Concordia as well as "Wit" and "Scrooge Macbeth" for Theatre B. Regionally, he has also directed "Jeeves Intervenes" at the Black Hills Playhouse and "The Nerd" at Theatre L'Homme Dieu.
In addition to directing and acting, Wintersteen says he loves crafting unusual theatrical effects on stage, including creating effects of spurting blood, spaceships, and even a 1000-gallon pool. He has an MFA in Directing from Minnesota State University, Mankato and a Ph.D. from the University of Oregon.
Wintersteen is excited about the "opportunity to work intensively with a small group of actors on a Pulitzer-winning script." He also mentions that the venue, The Lab Theatre is an "intimate" space that is "well-suited for small cast productions." He also emphasized the mature content: "If it were a film, it would be rated 'R' for language." Wintersteen also wanted to stress that you do not need to like math to enjoy this play: "At the end of the day, it is a play about people – about relationships, trust and love."
Caleb Christensen, Concordia sophomore, plays Robert, the brilliant mathematician, and father to Catherine. Christensen says that Robert has many "very contradictory" personality elements: "He is a very intelligent and kind man, while at the same time he is a professor who is tough on his students and struggles with mental illness." He observes that it is "a delightful challenge to play someone so complicated." Christensen is struck by the balance of drama and comedy in "Proof": "While there are some heart-wrenching and gasp-worthy moments, I myself have quite a few funny lines, as do the other characters."
Christensen found preparing to play Robert a challenge in the ability to portray the "massive energy" that Robert has: "he runs a bit faster than others."
Christensen is a double major in Social Studies and Theatre Art and has appeared in plays such as "Brighton Beach Memoirs," "Rimers of Eldritch," "August: Osage County" and "Perfect Arrangement."
Another Caleb, Caleb Camrud, portrays Hall, the love interest of Catherine in "Proof." Hal is a young professor who recently finished his Ph.D under the direction or Robert. Camrud says the most interesting part of playing Hal is "his profession aligns with what I hope my career to be in the future. I'm a senior mathematics major and am currently applying to attend graduate school in mathematics. So more or less it was just interesting playing a character that has this in common with me."
Camrud is compelled by Hal's "internal conflict between his intellectual love for Catherine's father and his romantic love for Catherine herself." He also enjoys the "dual-meaning" of the title, "Proof": "On one level, the play is about a mathematic proof, and in mathematics there are really only right or wrong answers. Either the proof is sound or it is incorrect; everything is very black and white. But the play contrasts this with the idea of 'proving' something in real life. Lawyers attempt to prove their clients' innocence, and prosecutors their guilt, but we all know that whatever the jury determines can sometimes be wrong." He says that the play centers on "whether or not it is possible for there to be some 'proof'" around the authorship of a notebook with a mathematical proof.
Camrud has been acting since 7th grade. At Concordia he has appeared in "Much Ado about Nothing" and "Les Miserables," and he also played Dracula in "Dracula." He also has been involved in a student short film, "Twenty Three Words."
Berit Johnson, Concordia junior, portrays Claire, Catherine's sister. Johnson describes the play as "beautifully honest and authentic." She finds the story very "relatable on many levels. And I think the audience will too." Johnson has someone in her life with depression. She elaborates: "I know that feeling of wanting to do everything you can to fix them, which of course you can't do. What you can do is let them know you are there for them and want to help in any way possible. It's up to them whether they accept that help, and that took me a long time to learn. I wish Claire knew that!" She says that this is "a play for everyone." However, math enthusiasts may find Eberhart's Conjecture, as a plot element, "particularly interesting."
Johnson's biggest challenge was learning to "completely own" the "rather condescending, dominating nature of Claire," whose good intentions are sometimes misguided. She loves "how Claire's top priority is doing what she thinks is best for her sister. Even if she can come off as condescending or inconsiderate, she feels a connection to her sister and holds that obligation to take care of her."
Johnson is majoring in Vocal Performance with a minor in Theatre Art. Originally from Minneapolis, Johnson appeared in school and community theatre productions, including "Seussical," "Fame," "Urinetown," "Oliver!" and "Les Miserables." At Concordia, she has been involved on stage and off in "Les Miserables," "Company," "The Metal Children," and "Blithe Spirit." She is currently the captain of the improv team and is a past co-anchor for Concordia On-Air.
IF YOU GO
Concordia College Theatre Presents "Proof"
Oct. 11 – 15th 8 pm; Oct 16th 2 pm
Lab Theatre, Concordia College
$10 for adults and $5 for seniors and students (free for Concordia students, faculty, and staff).
Box Office: 218-299-3314. https://www.facebook.com/events/701451186669361/