"Rent" offers message of hope
by HPR Contributor | .(JavaScript must be enabled to view this email address) | Theatre | August 5th, 2015

By Nate Gilbraith
The lights come up to reveal walls covered in graffiti and plastered with faux posters advertising an outdated rock concert. Costumes consist of outdated wardrobes that can only be described as grungy suggesting severe poverty. At one point an actor comes onstage holding a cumbersome Zack Morris cell phone. Toto, I've a feeling we're not in 2015 anymore. In fact audiences are being transported back to 1989 New York City.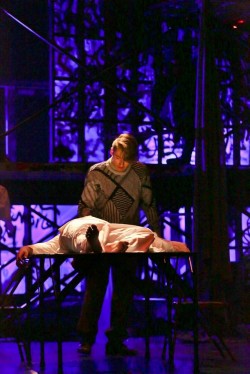 Written by Jonathan Larson in the early 1990s, "Rent" covers a large array of topics, including drug addiction, homosexuality, transsexualism, homelessness and the AIDS epidemic, just to name a few.
"In most musicals the audience gets eased into the world of the show," says actor Cody Gerszewski. "But with 'Rent' you open the doors, shove them in and say, 'Good luck.'"
Adam Pankow, director of Summer Arts Intensive, feels confident that our community is sophisticated enough for this show. In fact, he hopes the rock musical will serve as a catalyst for conversation on topics that are easily overlooked.
"This show offers an opportunity to talk about something on a bigger level and extend a conversation out into the community," Pankow says. "Because everything that is happening on this stage in terms of addiction and homelessness and death and suicide and disease is happening in Fargo. Whether you want to admit it or not, it's happening in our town."
Actor and assistant director Lucas Rutten echoes Pankow's views, saying, "We're not trying to solve things, as much as we are trying to get people talking about these difficult issues. It'd be easy to sweep these issues under the rug and not talk about them, but this show puts them on the table and demands that they be addressed."
Pankow also feels that this show is a good fit for the 19 young artists he directs. Not only does it give a reason to talk about these difficult topics with the actors, but it also gives them a chance to shine.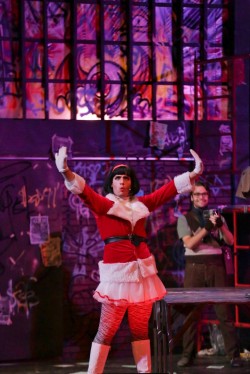 "It really is an ensemble show where I can showcase a whole lot of people and give everyone a moment that they can call their own," says Pankow.
Gerszewski returned to Summer Arts Intensive for a second year after having an enjoyable experience with the program. He speaks highly of Pankow's directing methods.
"He's one of those directors that gives you A and B and then gives us the opportunity to find how we want to get from A to B," Gerszewski says. "That's nice because as actors we have impulses and ideas and sometimes we just want to give it a shot. It's great to feel safe in an environment where we can do that."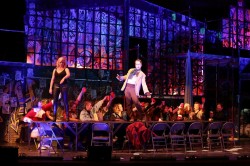 Gerszewski and Rutten say they're excited to be able to share this show with the Fargo-Moorhead community, especially since it's a version they were able to help create.
"When you take on a show that has a name, you're always asking where do we follow tradition and where do we go in a new direction?" says Rutten. "This is the Summer Arts version of 'Rent.' There are things borrowed from the Broadway version and things borrowed from other versions, but it's definitely us through and through."
Even in the face of challenging and depressing topics, Pankow and his ensemble hope to share an optimistic message with the audience. The director notes that when Larson initially wrote the musical he purposefully gave it an optimistic disposition.
"[Pankow] mentioned that the last message he wants to leave is that there is good," Gerszewski says. "There is good that we can create together through the strife, through the hate and through the anger."
IF YOU GO:
"Rent" by West Fargo Summer Arts Intensive
Thu. to Sat., Aug. 6-8, 7:30 p.m.
Sheyenne High School Auditorium, 800 40th Ave. E., West Fargo
(701)-499-3237