​The brain behind 'ben and trish.'
by Jack Dura | .(JavaScript must be enabled to view this email address) | Theatre | November 25th, 2014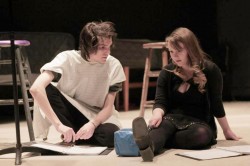 MSUM student aims high with original piece of theater
Local theater is suffering by no means in Fargo-Moorhead.
With the range of shows seen in the last year and still on the roster for 2014, our theater scene is lacking little. Among the main players onstage and behind the scenes, students are major contributors, with one Minnesota State University Moorhead senior adding a new dimension to F-M's theater scene with his original play set to premiere Saturday, Dec. 6.
Theater arts major Michael Johnson and his friends are premiering a play that has been in his life in one form or another throughout his college career. Through three years at Concordia, some time off for personal reasons and now at MSUM, his original play, "ben and trish.," is ready, and it's been a process bringing his brainchild to presentation.
After approaching a friend and his roommate with a raw version of the script several years ago, a read-through in Johnson's apartment convinced him the show had to go on.
"It was rough," Johnson said. "It needed some work done on it, but I really felt there was a truth at its core."
Concerning a brother, a sister and the estrangement between them, "ben and trish." examines the siblings' pasts through childhood memories and moments that led up to their estrangement.
Just two people are seen onstage in all of this, a story encompassing numerous genres with a minimalistic approach to it all in design.
"It's not a spectacle," Johnson said. "Those who love the big, glitzy, glammy shows with the chorus line and the tap numbers—it's a very aesthetic show, two actors, no set."
And that's how Johnson and his crew members feel any show should start: nailing down the core of a performance with actor and stage before adding any layers.
With intentions to take this show to Minneapolis and beyond, selecting against a set factored into Johnson's plans for "ben and trish." The play had a staged reading at MSUM last spring, and beyond this one-night-only performance coming up next week, Johnson has entered it in the Kennedy Center American College Theatre Festival.
"We do have the ambition of this piece going to Minneapolis for the regional festival, and then in a dream that we have, going to Washington, D.C.," Johnson said. "That's the dream."
With quite a story already building, "ben and trish." has much in store for its future, and who knows how far it will go.
Johnson knows that those involved—his friends, cast and crew—have given a lot to make his play presentable for its premiere.
"They have just sacrificed a lot to be a part of this, even if it's just time, and I know it's so much more than that," he said. "I think this is a piece that is really a bunch of students getting together and trying to create something that they believe in, 100 percent."
IF YOU GO
WHAT: "ben and trish."
WHERE: MSUM's Gaede Stage
WHEN: 7:30 p.m. Sat., Dec. 6
TICKETS: 218-477-2271