The fun of horror Concordia College Theatre sets out to scare with "Dracula"
by Jack Dura | .(JavaScript must be enabled to view this email address) | Theatre | October 14th, 2015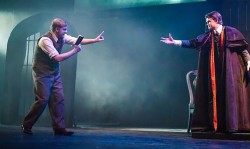 When a straight play has more light and sound cues than a musical, you know it must be something unique.
Concordia College Theatre debuts its 2015-16 season this weekend with "Dracula," a stage version of the Victorian horror novel by Bram Stoker.
The fun of horror Concordia College Theatre sets out to scare with "Dracula"
This production is "a new adaptation of an old adaptation," director David Wintersteen said, and with that has its challenges.
"The special effects and things like that are very different," he said, adding, "although I will say I think our best special effects are based on 18th century technologies."
Planning "Dracula" for the scary season of autumn and October, the goal of scaring audiences within a theatrical experience is part of the play's mission, but also something else, Wintersteen said.
"This show is really a framework for special effects and various kinds of surprises," he said. "It has more sound and light cues than most straight plays do. It's got more sound and light cues than many musicals do … There's just a lot going on."
Music underscoring and sound effects are part of the show's special effects, like bringing to life the "sound of fear," Wintersteen said.
"We want to play that sound very loud with six subwoofers," he said. "We in the audience … see and feel and hear through the eyes of the characters."
Aside from its special effects challenges, the play's 13-member cast has spent time perfecting the performers' dialects.
The story is set in 1890s England and Transylvania.
"We've kept it there, and one of the challenges … has been them working on the accents and doing the best quality undergraduate theater we can," Wintersteen said. "You know, it's a learning experience."
One small theme that percolates the play is the role of women, Wintersteen added.
The conceptions of how females should feel, think and act have been addressed by the cast, he said, to "reflect a more modern sensibility."
"You can't go back in time and change when women got the right to vote, but there are subtle ways of shading the characters," he said.
More so, the elements of fear and horror are what "Dracula" seeks to deliver to its audience.
"No one goes to a horror show not to be scared," Wintersteen said.
"Scaring is entertainment," he said. "In a horror show we go to be scared and that's fun."
"Dracula" features no audience interaction, and viewers have the comfort of knowing the story is not happening to them, he added.
"We're there and we're watching it vicariously," he said. "It's fun to be moved and scared within that safe context of the theater … in your seat, surrounded by your friends."
IF YOU GO:
Concordia College Theatre's "Dracula" When: Oct. 15-17 8 p.m., Oct. 18 2 p.m. at Concordia College's Frances Frazier Comstock Theatre call 218-299-3314 for tickets