​'THE SWEET NEW' OFFERS A STORY OF TRANSFORMATION
by HPR Contributor | .(JavaScript must be enabled to view this email address) | Theatre | April 15th, 2016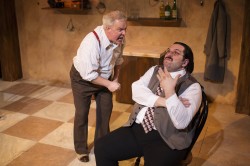 By Ben Haugmo
As human beings, none of us are strangers to change. From births to marriages to deaths, events occur in our lives that leave us different than we were before.
Like all of us, Raymond Rea is no stranger to change. He used the experiences of both himself and his family to inspire his upcoming play, 'The Sweet New.' The play follows an Italian-American family over the course of three generations and the unique changes each family member undergoes. The three main characters transition across borders, cultures, and genders, and each of those changes impact both their own lives and the lives of those around them.
"The spark for the play happened when I went through a legal name change as a Female to Male transman, looked back in my family's past, and realized that I wasn't the first to change my name legally," said Rea.
Although the play follows aspects of Rea's life, it is written autobiographically only to a certain extent.
"At times, watching rehearsals, it feels very personal," said Rea. "Then, at other times, I see the characters as having grown out of historical figures, including myself, but having taken on their own life."
The Sweet New was written in collaboration with Theatre B in Fargo as a part of its Incubator Series, a program through which local work is developed for production via a process of workshops, revisions, and stage readings. Over the course of its development, the play underwent several rewrites and iterations.
Rea is a filmmaker as well as a playwright, and notes the differences between writing dramatic scripts as opposed to screenplays.
"Writing plays is a different challenge from writing for film," said Rea. "Human interaction is primary. I have always also loved the 'live-ness' of theatre. It's different every night."
Darcy Bakkegard is the play's director, taking Rea's writing and adapting it to the stage. For her, much of the challenge of rehearsal resulted from the play's subject matter.
"The play explores sensitive material that has, in a meaningful way, made us all feel uncomfortable. And that's what it's supposed to do: make us examine the changes we have faced and the judgments we make about others.There are scenes in the play that examine the darker judgments lurking in all of us, putting words into the actors' mouths that are at times painful to say and hear. As a group we are embracing this discomfort; if we feel it, the audience will feel it. We want to spark thought, but we also want to spark empathy and self reflection. So the challenge is well worth it."
The themes of the play are applicable to current topics of discussion, examining Issues of immigration, war, and gender equality. Shea Hittman, taking on a double role of Theatre B's Operations Manager and the character of Jamie, believes that The Sweet New can prove relevant even to audience members not involved with the important issues that the play touches on.
"The other thing that's really interesting is the family dynamic," said Hittman. "The play's about these three men in this family coming into their own, and how each of them adjusts to one another's change. That's really relatable to people even if you haven't immigrated, or you haven't changed your name, or made any of those transitions."
'The Sweet New' depicts a broad range of personal transformation through the stories Rea has adapted from his own life. Change is universal, and it's that quality of change that allows the events depicted in the play promise to resonate with audience members, even if they haven't experienced them firsthand.
IF YOU GO
The Sweet New
716 Main Ave, Fargo, ND 58103
April 15 - May 7, Thursday, Friday, Saturday at 7:30 p.m.; Sunday matinee April 24 and May 1 at 2 p.m.; pay as you wish preview performance April 14 at 7:30 p.m.;
ASL interpreted performance April 23
Adult/Senior tickets are $20.00, student tickets are $10.00
Discounts for groups of up to 10 and over are available
Matinees are senior day - $17.00
Thursdays are student day - $5.00
(701) 729-8880