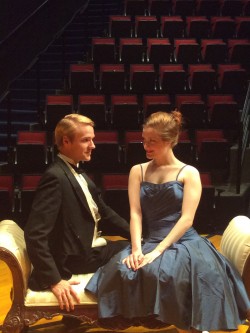 Time and talent Straw Hat Players plot another summer of eclectic offerings
Craig Ellingson knows this summer will be a great one.
The Minnesota State University Moorhead theater director has his hands full with the Straw Hat Players this May and June, and despite several changes that are in the air, he asserts the summer theater students won't miss a beat.
"It's going to be a challenging summer for some of our shows," Ellingson said. "We have a bunch of new people, which is really quite exciting. I think (this season) is going to be a delightful mix of some new faces and old favorites."
With a shorter season owing to sharing venue space with the Gooseberry Park Players, the Straw Hat Players have four shows lined up. Debuting a new production every Tuesday in June, their summer will see a little bit of everything.
"There's some great music and costumes and scenery and all that goes along with summer theater," Ellingson said.
Some Enchanted Evening
With rehearsals off like a shot on May 18, the Straw Hat Players' first show, "Some Enchanted Evening," debuts June 2.
The musical revue rounds up a pair of musical theater composers known far and wide.
"It is filled with all the classic Rodgers and Hammerstein pieces you can think of," Ellingson said, adding that two baby grand pianos will be brought in for the performance.
MSUM music faculty Erynn Millard steps in to perform, as well as Angie Schulz of Music Theatre Fargo-Moorhead.
Twenty-five Straw Hat Players join them onstage for the show, which begins the company's 52nd season.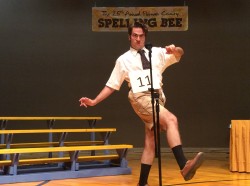 The 25th Annual Putnam County Spelling Bee
One week after the first production, "The 25th Annual Putnam County Spelling Bee" takes the stage.
"It is a newer piece," Ellingson said of the musical comedy, "and it is very, very funny."
Six prepubescents vie for top honors in a spelling bee headed by three dubious adults.
"'Spelling Bee' is quirky and imaginative," Ellingson said.
The Good Doctor
The hand of Neil Simon makes an appearance in the Straw Hatters' season on June 16 with the playwright's "The Good Doctor."
This comedy with music "is an ode to Anton Chekhov as seen through the eyes of Neil Simon," Ellingon said, adding that numerous vignettes studded with comic relief help drive the show.
"Neil Simon is a good summer standard."
Cats
The only Straw Hat production with six dates rather than four is "Cats," the Broadway musical based on T. S. Eliot's "Old Possum's Book of Practical Cats."
While Ellingson knows the company can pull off a show as large as "Cats," the time it takes to make the show happen could be a bit of a challenge, especially with three other productions going on as well.
But he is stoic.
"We think we have the student body and talent to present these."
Season 52
A fixture of summer since the 1960s, Straw Hat Theatre has cemented itself as a staple in the season's entertainment in the area.
The company's longevity "proves we are definitely one of the major summer institutions in Fargo-Moorhead," Ellingson said.
With family-friendly themes and the addition of hearing impaired shows on Thursday nights, the Straw Hat Players have made their performance accessible to all audiences.
With that, however, tickets are going fast.
"I encourage everyone to buy early rather than later," Ellingon said.
YOU SHOULD KNOW
MSUM's Straw Hat Players Four shows
June 2-27
Gaede Stage and Hansen Theatre
Call 218-477-2271 for tickets