​A chef's guilty pleasure
by Judd Eskildsen | .(JavaScript must be enabled to view this email address) | All About Food | March 8th, 2017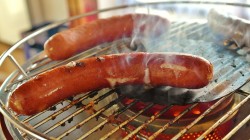 Every Chef has his or her guilty pleasures. In the eyes of the public, chefs are associated with beautifully plated, perfectly prepared food, and a level of flavor that seems to leave our guests at a loss for all words, except for one, "Amazing!"
Our guests always seem to be shocked when they find out what a true chef's choice consists of at the end of a long shift or during a lazy day off.
I was recently notified that one of my own favorites has made a surprise, middle-of-winter visit to Downtown Fargo--Top Dog Hot Dogs (The Bomb Dog Guy). My first encounter was filled with skepticism. I've heard of hot dog carts in NY and Chicago, and always thought, "Really? How good can a hot dog get?"
This guy didn't claim to be from NY or Chicago, and he sets up after dark, only on the weekend. He knows when he's got a new customer. His repeat customers are excited to get to the front of the line, discussing among themselves what their order is going to be. If you haven't been talked into it by the time he gets to you, he's going to suggest you get The Bomb Dog, simply because "It's the best I've got!"
The Bomb Dog is officially listed as a "Company Secret," and he will not talk about any ingredients, including the dog.
I'll do my best to describe it from memory. I'm pretty sure he starts with a quarter pound hot dog, unlike any other dog in the world. There are at least three different sauces, onions, fried onions, bacon, kraut, shredded cheese…I might even be listing ingredients that aren't on it! It's THAT good!
The Top Dog Facebook page says "Open until I can't feel my fingers." I catch myself watching the corner closer and closer as the temperature rises, hoping to fulfill the craving that I've been fighting for months. I occasionally go back to The Bomb Dog, but lately, I have a new love. The Misfit is topped with cream cheese, salsa, shredded cheese and bacon, and deciding whether I want one or two is the last big decision I'm willing to make after my shift.
You may ask why I don't just make one on my own rather than waiting all winter, hoping he'll be out soon. It just proves my point that the chef coat doesn't make the chef, and all chefs have their own magic touch.
[Chef Judd is Executive Chef at Proof Artisan Distillers]