Adventures in the coffee trade
by HPR Contributor | .(JavaScript must be enabled to view this email address) | All About Food | November 22nd, 2016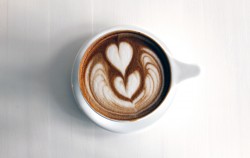 By Tom Bixby and Nicole Mendoza
tom@hpr1.com, nicole.i.mendoza@ndsu.edu
You find a place like Young Blood Coffee by accident. In the morning they unlock their door, write in chalk on an A-board and put it out on the sidewalk in front.
Tim and Elisha Griffin have lived and worked in some of the best big cities in the country: Portland, San Francisco, and West Los Angeles. Recently arrived in Fargo-Moorhead, they are coffee pioneers and already feel at home. Elisha is from Portland and Tim's from Cooperstown, N.D.
Young Blood Coffee is located between a popular sushi shop, Wasabi, and a late-night noodle place, Drunken Noodle, in Downtown Fargo and less than a block from Broadway. How are they doing? It's been less than two months and they're already scratching an itch.
Fargo's newest coffee spot uses a peak quality brand, Four Barrel, roasted in San Francisco. Tim said that he doesn't want to roast his own because he wants it done right. "That's not my area of expertise. It's an art form…"
Is Tim a perfectionist? Elisha nods. "You can do it with machines," she adds, "but in the places we've come from, they use all of their senses. Each coffee varietal is different."
Tim agrees. "Yeah, and they have to get to know that coffee, its water content and its terroir, where it came from--it's like winemaking. You can cover up a lot of impurities by just cooking something darker, and then you taste that darkness, which is really carbon, and some people legitimately love that flavor, but that's not what we do.
"And what Four Barrel and other artisan coffee companies do, that do it right, is to cut out the middleman and go directly to the farms. Four Barrel starts farmers at a rate higher than fair trade. They establish relationships. Sometimes Four Barrel will do goodwill things like have a road built to a farm. Or they might help them improve equipment in their washing station. Four Barrel has a grading system, and the better the coffee gets, the more they pay for it. It's sustainable, and they commit to that farm in the long term.
"A perk of being in San Francisco is that it's the best place to import and roast coffee. The temperature stability keeps the coffee in prime condition. If you buy coffee that's roasted in San Francisco, that's a huge advantage over coffee that's brought to the Midwest and roasted here."
So in San Francisco, it isn't just sourdough bread that's uniquely good? Tim says "Yes, and for the same reasons, and that's another passion of mine -- we hope to start baking bread. I learned how to bake bread in San Francisco as well."
How did Tim get started? "I went to Portland to learn about coffee. I got out there with no place to live, and was living in my truck, and was counting on being able to land a job at one of the higher-end coffee places. So I hustled really hard and got a job at one owned by a world barista champion who'd gotten a lot of notoriety and ran one of the most prestigious cafes in Portland. Pretty exciting for me!
"And then a friendly landlord who was willing to wait a couple of weeks to get the first month's rent...I've always felt that if you don't have a backup plan, you're forced to be successful.
"That's definitely the case in this business. I don't know how I feel about sharing this, but we scraped everything together to open this…I'm an inherent risk taker, the story of my life...but we've been trained by the best and we know we're equipped to do it well."
Tim worked in Portland's saturated market, and he knows how to stand out from the crowd. Being interactive and thinking of the customer's experience is key, he says. "We're firm believers in always having two people behind the bar, and never leaving it attended by only one, even during slow times. My experience in the industry is that the best cafes with the best energy always have at least two.
"A single person behind the bar can create a bad energy for the people coming to buy something. Because when two people come to the front of the line, then that person behind the bar gets overwhelmed if another two come, and then the people in the line feel guilty, because they think they're overwhelming the person; and then that person can't engage the customers. They're just focused on getting those drinks prepared and getting them out the door."
Was this something he learned in Portland? "Portland has to be unique, in that they could never have too many cafes. It seems like every cafe in Portland does well and has high standards. "There's a company there, Stumptown, which has created a community, and you could have two Stumptown cafes on one block, and they would both do well, under different ownership.
"Another thing I learned about Portland, there is no target demographic, it was 'If you'd like some good coffee, you're welcome.' The beauty of Portland is that very different people enjoy one another's company. You would have a woman with a stroller, the guy behind her might have gotten enough change on the street to buy a cup of coffee, and the guy behind him is a rock star or an actor…"
They work a lot of hours, every day, and they're both almost always there. "When one of us is gone, which doesn't happen very often -- it's usually to get milk, something like that. We don't let each other go to just hang out, not yet, anyway."
How did they meet? They both worked at Four Barrel in San Francisco. "My friend was interested in him," says Elisha, "so I went as wingman on their dates. But it ended up that we had more in common. Everyone at the company loved him, nobody had a bad word to say about him, that's what I knew about Tim, and...we might not have hung out if it weren't for our mutual friend…"
Long pause. Tim remembers that "The early part of our dating relationship was fun. We'd go to places like Vesuvio, Jack Kerouac's old bar where he wrote 'On the Road.' We spent a lot of time just enjoying the city, and going to a lot of other coffee shops, famous restaurants.
"And in that service community, you tend to get a few perks when you're in that higher echelon of the artisan foods, so we could get into restaurants, go to the head of the line. In the service industry, people take care of each other…"
Elisha smiles. "Tim had a motorcycle."
"I rode a motorcycle around San Francisco a lot. It was her first experience and we took trips up the redwood coast, to Boulder Creek..."
They finish each other's sentences. "And then we got a bigger motorcycle and we could go to Oregon and see family."
They lived about four miles apart. "Elisha was in the Mission District and I was living in North Beach. The roommate situation was weird, it was infested with fleas, I had to get out, and I moved into her place."
Young Blood Coffee has also been growing by presenting live music shows and incorporating artwork by up-and-coming artists like Emma Beatriz. It's also every broke college student's dream: superb coffee at a reasonable price, with cups averaging between three and four dollars.
And we heard it through the grapevine, guests have been raving about its inviting environment. One of their regular customers, Brian Harris, chimes in that; "This is not just a Fargo coffee shop but a San Francisco Mission District coffee shop transported here."
Harris also admires the baristas for their work. "They have dozens of blends tailored to different tastes, but their primary goal is to insure it's perfect for you." Translation: everyone feels welcome there. Having conversed extensively with the Griffins, they display our most basic trait, and are certifiably North Dakota nice. We think they were born that way! Their friendliness is genuine and unforced.
One of their website photos is of the beautiful spotless Dutch espresso machine, which must have cost as much as a car. But google it and the nearest parts and repair is in Portland. How is Tim going to make that work?
"They normally don't sell them to folks in the Midwest because they can't service them, but because of my experience in the industry, they gave me a parts warranty rather than a service warranty. I do have experience in the installation of espresso machines. I'll do it myself, I just have to figure it out."
YOU SHOULD KNOW
Young Blood Coffee
Mon-Fri, 7am-5pm; Sat & Sun, 8am-5pm
623 NP Avenue, Fargo
218-770-4728