Brussels sprouts: a labor of love
by Annie White Carlson | .(JavaScript must be enabled to view this email address) | All About Food | November 3rd, 2017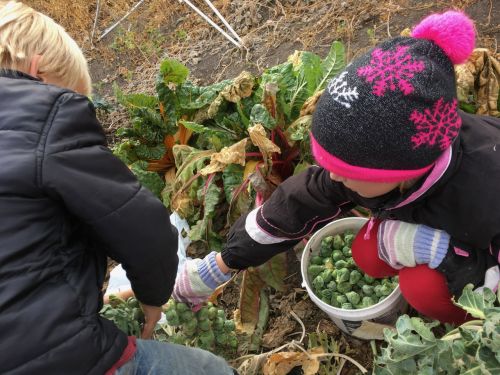 A farmer's day is governed by the sun. Work starts on our farm as soon as we can see and continues until we can't. That makes for long days during the growing season. Our days are filled with caring for our livestock, moving fences for our rotational grazing systems, and tending our gardens.
As we lose daylight in the fall, the sun sets on our farm work. Many tasks are completed in preparation for the winter that is soon to be upon us.
It froze this week here on the farm. That effectively ends our 2017 growing season.
The afternoon of the forecasted frost, my kids and I were doing our best impersonation of squirrels, going through the garden and harvesting as much of the remaining vegetables as we could. We gathered ten gallons of tomatoes, two gallons of garden huckleberries, a basket of peppers, and four gallons of tomatillos. We also found a few stray broccoli side shoots and a rogue cucumber.
Everything had to come in or perish in the frost. There are a few vegetable crops that can tolerate a frost and even some that need a frost to mature. These include pumpkins, squash, and Brussels sprouts. We don't plant every crop every year in our garden, it depends on how much we have stored in canned and frozen storage. I didn't plant pumpkins or squash, but I do have Brussels sprouts.
Brussels sprouts are a labor of love. Unlike their cousins in the cabbage family (broccoli, cabbage, cauliflower), they have an extremely long growing season, one hundred days from transplanting to harvest. And here in the northern plains, you need to start the transplants six to eight weeks before planting outdoors after the last hard frost.
Brussels sprouts require a frost, it adds sweetness and matures the flavor. A farmer spends the whole of spring, summer, and most of fall weeding, tending, watering, and caring for the plants in hopes that if all goes well, the last thing you will fetch out of your garden is a stalk of small round orbs.
My kids helped harvest our Brussels sprouts, twisting off each sprout from the stalk. As we were harvesting, my eight year old son said, "I didn't know these plants were food. I thought they were just something we had to weed!"
I encouraged the kids to sample the fresh sprouts. And then I had to scold them, "Don't eat them all! I want to freeze some!"
We ended up with three gallons of Brussels sprouts from our 16 plants. We ate one gallon fresh and I blanched and froze two gallons to enjoy this winter.
Why? Why would someone invest so much time and energy in Brussels sprouts? Haven't kids everywhere gagged over just the thought of eating them? As is my opinion with most foods, the reason people don't like them is because they haven't had a good Brussels sprout.
They aren't difficult to prepare, and as a farmer who tends them for almost six months out of the year, they are worth every minute. Our family's traditional Christmas meal isn't complete without Pioneer Woman Ree Drummond's Brussels Sprouts with Balsamic and Cranberries. My kids ask for seconds…of Brussels sprouts!
In the fall, a delicious method is to trim and halve the sprouts and, combined with other fall vegetables like squash, potatoes, onions, and carrots, toss with a bit of olive oil and your favorite seasonings and roast. But for everyday eating, I love a simple sauté.
Sautéd Brussels Sprouts
(yield about 4 cups)
Ingredients
6 slices of bacon – I prefer pastured pork bacon
½ cup of chopped onion or shallot
3-6 cloves of minced or chopped garlic
1 ½ pounds of Brussels Sprouts – trimmed and halved
salt and pepper to taste
Directions: Chop the bacon into 1 inch pieces. Fry over medium high heat until it begins to brown and has rendered out the fat. Bacon continues to cook after you remove it from the pan, so it's best to err on the side of not-quite-done. Remove the bacon with a slotted spoon or a fork to a paper towel lined plate. Depending on how much fat remains, you may wish to pour off some of it. You want a couple of tablespoons left in the pan. Add the sprouts and toss to coat. Continue cooking on medium high heat for about 5 minutes, tossing occasionally. Add the bacon, onions, and garlic, cook and toss for another 4-5 minutes. Finish by seasoning with salt and pepper to your taste.
Serve hot and enjoy your Brussels sprout ecstasy.
It's Brussels sprouts season! Find your local farmers market or food co-op and purchase fresh sprouts. They are easy to blanch and freeze so you can enjoy them all year long. And perhaps these long awaited delicacies of the fall will become a traditional family favorite on your table as well.
Be and eat well.
[Editor's note: More of Annie White Carlson's work can be found at www.morningjoyfarm.com or www.almostannie.com]