Downtown dogfight
by Logan Macrae | .(JavaScript must be enabled to view this email address) | All About Food | October 18th, 2017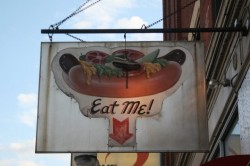 Friday night we were burning the midnight oil, carousing, drinking, and rambling about. The downtown dogfight has been stirring for a while, biting at my heels and barking in my brain. It was time for this idea to come to fruition. I enlisted the assistance of two friends and we headed out to vet the two most common hotdog stands Downtown.
We started at The Hot Dog Peddler, most commonly located on the half block by Fort Noks on the weekends. This purveyor of hot dogs and sausages offers a variety of toppings, most notably cream cheese. The first time I had one of these dogs, it was covered in cream cheese and bacon, and it was fantastic. It could have been the company, but I dug it.
Friday, we decided on the mac and cheese dog with bacon. The mixture of the noodles and salty bacon was delicious. It was a delight, but was lacking a pop and some spice. The dog was a lot of bark and not a lot of bite: mostly bread and carbohydrates, and not a lot of overall diversified flavor, something I look for when dining out around bar closing time.
The Dog Peddler has a lot of options to offer, and this could be a failing on my part for not ordering more adventurously, but I picked off the top of his menu, expected something sensational and was rewarded with a slightly docile dog.
Many other customers at the stand were ordering theirs with sauerkraut and other ingredients. This may be necessary on my next visit.
After some additional travel up and down Broadway we headed to the other stand in the downtown area. Most prominently located across the street from Dempsey's, Bomb dog is a brightly colored cart with a sign that resembles a Jackson Pollock painting.
There was a bit of a longer line here, take it as you may, but I took it as a good sign. The Bomb Dog is a company secret recipe, a combination of sauces and ingredients that mimics its sign. The fluidity of the creator's production of the recipe is as amazing as its taste. This dog has bite.
I can't even begin to describe the flavor combination coming out of this delicious delight. I'm sure there was some taco sauce somewhere in there, some crushed up chips, bbq sauce, maybe some mustard? It was spicy, saucy, and savory, all at the same time. The flavors and textures of this hot dog are exactly how you want your mutual fund, diversified.
There is no comparison in creativity. "The Bomb Dog" brings the fight and goes home a winner. The saucy, cheesy, tasty and downright delicious nature of this delectable delicacy dominates. This is a rare breed that feeds.
When you need something salty, meaty, flavorful, and filling after closing time, with a kick, the Bomb Dog is the champion. I look forward to enjoying another in the future. It's a killer.