​Eat Your Fill at Local Eateries During Restaurant Week
by John Showalter | .(JavaScript must be enabled to view this email address) | All About Food | May 31st, 2017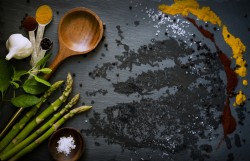 There is one thing that the Fargo-Moorhead area has no shortage of. No, I'm not talking about freezing cold weather. I'm not talking about booze either (though I seem to remember Fargo winning the honor of 'Drunkest City in America' a few years ago.) No, I'm talking about restaurants. Between Fargo, West Fargo, and Moorhead, one can find about every region of the world's cuisine being represented: German, Italian, East Asian, Middle Eastern, Latin American, African, as well as several twists on classic Americana. It's possible for someone who has lived here for several years to find new places to eat, and that's part of the goal of the fourth annual Fargo-Moorhead Restaurant Week.
The concept of Restaurant Week had its genesis in New York City, which of course is known far and wide for its culinary offerings. Since then, numerous communities throughout the United States have adopted their own with the goal of showcasing the local culinary scene. The Fargo-Moorhead-West Fargo area began their own Restaurant Week in 2014, and 2017's ten-day event, which runs from June 8th to June 17th, is to be its fourth.
"It's a great opportunity for people to try a new restaurant or taste something different at one of their favorite restaurants," said Danella Myers, the digital marketing manager for the Fargo-Moorhead CVB (Convention & Visitor's Bureau). The marketing department at the Fargo-Moorhead CVB arranges the event each year by communicating with various local restaurants, producing advertising for the event, and maintaining the website for the event in partnership with the participating restaurants.
Any uniquely local restaurant is capable of joining the event by contacting the Fargo-Moorhead CVB beforehand. This year there are a grand total of nineteen restaurants participating in the event from all three communities in the metropolitan area. People interested in taking part in the various bargains and deals during Restaurant Week have their pick this year from: Barbacoa, Everest Tikka House, Fargo Brewing Ale House, Green House Café, Hennessy's Irish Pub, Herd & Horns, Hi-Ho Burgers and Brew, Hotel Donaldson, India Palace, Labby's Grill & Bar, Luna, Old Broadway, the Radisson Hotel, Rosey's Bistro, Spicy Pie, The Boiler Room, The Toasted Frog, Three Lyons Pub, and Twist.
A number of participating restaurants are having three-course deals, says Myers. For example, she said, "Fargo Brewing Ale House's menu includes a half pint of beer. India Palace is offering their lunch buffet and a few of their other specialties at a discounted price." A whole list of the participating restaurants and their Restaurant Week menus and specials is available at the website for the event. Diners participating in the event even have the option of filling out surveys at participating restaurants for a chance to win restaurant gift cards.
There are no prerequisites for diners who want to take part in Restaurant Week other than to show up at the restaurants, order food, and "have a good appetite," said Myers. Whether you have long been acquainted with the restaurant scene in the FM area or are a relatively new arrival seeking to know what culinary delights can be found in Fargo-Moorhead, Restaurant Week offers a great opportunity not only to wet your appetite and fill your stomach, but to find out what diverse tastes the town has to offer.