​Exploring the intersection of food and real estate
by HPR Contributor | .(JavaScript must be enabled to view this email address) | All About Food | May 3rd, 2017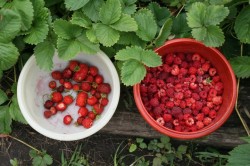 By Megan Myrdal and Abby Gold
In recent decades, U.S. residents have shown increasing interest in fresh and local food -- a trend becoming increasingly evident in the Fargo-Moorhead metro area.
Farmers markets and community gardens are booming, Prairie Roots Food Co-op is slated to open this summer, and a recent front page article in the Fargo Forum highlighted that our community's local food scene is growing.
Though food is solid movement in our community, there is still much progress to be made. According to JobsEQ, 4,300 jobs are available in the metro. As we look for creative ways to attract and retain talent in our community, we ought to prioritize and plan for the thoughtful integration of food and real estate.
Urban gardens, farmers markets, indoor food markets, food co-ops, and even farms built into neighborhoods create positive food experiences, opportunities for connection and, ultimately, belonging -- the coveted key to finding a shared sense of community.
Intentionally incorporating opportunities for residents to grow, purchase, and consume food within the context of new or re-designed communities creates value for homebuyers while simultaneously supporting environment, social, and health goals. Deciding whether or not to increase these opportunities in our community may also dictate whether a person decides to make the Fargo-Moorhead area their home.
Why food matters to real estate developments
Food-related real estate developments benefit communities in many ways. They have the opportunity to create a sense of attachment to development projects and establish a unique identity for a community, therefore, adding value and fostering strong social ties.
In Fargo-Moorhead, places like the Growing Together community gardens or the Red River Market are neighborhood cornerstones, not only providing access to local food, but also space where connections are made and relationships are fostered.
Additionally, health outcomes like overweight and obesity, or chronic diseases like diabetes, may be improved if developments focus on increasing access to healthy food options, particularly in low-income areas.
These developments can intentionally incorporate amenities such as wellness clinics, food co-ops, and nutritional educational programing that further promotes positive health outcomes.
The Prairie Roots Food Co-op (opening summer 2017 near downtown Fargo)
The Co-op will be a great example of a grocery store that not only provides healthy food access to surrounding neighborhoods, but also supports building the necessary skills to enjoy whole, healthful food through classes and workshops.
Certain food-related projects also preserve valuable farmland. The Fargo-Moorhead and surrounding area is home to some of the most fertile farmland in the world, and the growth and development of our community should consider the consequences of taking this valuable land out of production, not only for our immediate needs, but also for our future food security and community resilience.
Finally, food-centric real estate projects create the ability to grow, produce, distribute, and dispose of foods in a small geographic area, therefore creating a controlled food system that is nimble in addressing issues like food waste, climate change, and environmental stresses.
What are some examples of food real estate projects in the United States?
The number is increasing exponentially across the U.S. as communities recognize the value of these developments. Two that are particularly interesting and have potential applications for the Fargo-Moorhead community are Serenbe and Summers Corner.
Serenbe, Chattahoochee Hills, Georgia (Atlanta suburb)
Serenbe is a 1,000 acre residential community that currently includes over 200 homes (single family, multifamily, and live/work units), commercial and art spaces, and three restaurants. It eventually plans for a total of 1,200 residents.
The development hosts a variety of food-based amenities, including a 25-acre organic farm that produces over 60,000 pounds of produce each year, a Saturday farmers market, a community-supported agriculture (CSA) program, public farm tours, and edible landscaping.
In order for Serenbe to come to life, a number of local zoning laws had to be rewritten to allow for high-density residential hamlets within walking distance of community and commercial centers. By increasing density to allow for 20% more residential units than what is typically allowed with traditional development practices, Serenbe preserved 70% of developable land for agriculture and open space.
Regarding the financial success of Serenbe, president and founder Steve Nygren notes: "Our development is financially successful, but more essentially, we measure success in terms of the well-being of our residents and by our ability to teach area youth about topics like the seasonality of local produce." Read more at www.serenbe.com
Summers Corner, Summerville, South Carolina
Envisioned as a "community in a garden," Summers Corner is a 6,435-acre, 400 home master-planned community. The development includes a community garden as a feature amenity, walking/biking trail system, demonstration gardens, and an outdoor market.
The developer WestRock Land and Development worked with Clemson University to house its Extension Service - Master Gardener program at Summers Corner, which gives the public and residents the opportunity to learn about South Carolina gardening, food growing, and soil testing from certified Master Gardeners.
The community is also home to a cafe that serves breakfast, lunch, and organic beer and wine, and features seasonal items from the Kitchen Garden, which is planted and tended by Master Gardeners. Read more at: www.summerscorner.com
Food-focused real estate developments create great potential for communities in a multitude of ways. With the current and projected growth in the Fargo-Moorhead area, as well as growing workforce demands, developers and public officials should recognize the value of food-centered developments to create healthy, vibrant communities that attract and retain residents.
If you'd like to learn more about these issues, the Cass Clay Food Commission will be discussing food and real estate on Wednesday, May 10, 10:30 a.m. in the Fargo City Hall Commission Chambers.
[Editor's note: Megan Myrdal is the Project Coordinator for the Cass Clay Food Commission, Co-Founder of Ugly Food of the North, and a Co-Organizer of the Red River Market. Abby Gold is Vice Chair and Associate Professor, NDSU Department of Public Health, and Steering Committee Member of the Cass Clay Food Systems Initiative]