Fargo food truck park
by Hee Han | .(JavaScript must be enabled to view this email address) | All About Food | August 30th, 2017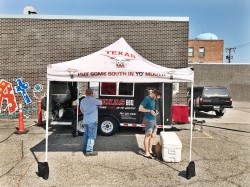 The Fargo food truck park has been launched in downtown Fargo. The park is a collaboration between Kilbourne Group and Folkways. The Kilbourne Group provided space for the trucks in the same space, the former Schumacher Goodyear parking lot, starting in 2016.
Since Kilbourne Group and Folkways have partnered, they have provided their knowledge of public spaces and their relationships with local business owners. The Fargo food truck park has grown to six food trucks, with outdoor seating areas as well, and right on Broadway.
Simone Wai, community builder at Folkways, explained how the food trucks were united. "The food trucks have all reached out to us to form the park. Food trucks have better success when they are clustered together like an outdoor food court, so when we announced the park, they were excited to be part of a community of local business owners creating a unique dining experience."
The number of food trucks in our community has been growing and Wai hoped that this park will be able to show the customers and visitors to Downtown Fargo what a great asset these locally owned businesses are, capable of serving restaurant-quality meals from a small, movable space.
There will be a variety of food available from the food trucks. Customers and visitors can enjoy the place by getting a variety of cuisine from a Texas BBQ sandwich to a sushi bowl to pizza. "Since the food trucks are small, they tend to specialize in one food type, which allows you to try something that might not be available at a traditional restaurant," Wai said.
There will be food trucks every day and throughout the day and evening, however, the vast majority are present on Thursdays and Fridays from 11am to 2pm.
Luckily, all of the food trucks are run by independent business owners, which means their hours vary. For specific hours, there are links to Facebook pages of each business are on this website, www.fargofoodtruckpark.com, where you can find their schedules.
"We have heard great feedback from visitors so far. People love the variety of options that are available when they visit the food trucks with friends or co-workers. Outdoor dining downtown can be limited and fills up quickly, so it is a great option to sit and enjoy the summer and fall. It's a nice place to spend time during the lunch hour instead of heading back to eat at your desk," Wai said.
YOU SHOULD KNOW
Fargo food truck park
409 Broadway, Downtown
Open every Thursday and Friday, 11am-2pm