​Farm to table
by Elizabeth K. Neshem | .(JavaScript must be enabled to view this email address) | All About Food | February 22nd, 2017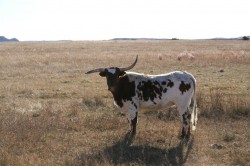 Meat production in the United States is reaching record highs, making many items in grocery stores more readily available to consumers.
Agricultural producers are conscious of the unpredictability in prices for their commodities. While some consumers believe that food prices are always increasing and producers continue to receive more money for the product. Meat prices in grocery stores may be considered high and beef producers are receiving next to nothing for their beloved commodity.
Market beef prices have gone from record highs just three short years ago, down to an average amount, putting next to nothing in producers' pockets thanks to the increase in input costs.
Since then, overall beef production in the United States has increased at a rate of five percent per year. The goal of any rancher is to make a profit, while raising high quality cattle and that's exactly what North Dakota producers are continuing to do, to keep consumers pleased.
The outlook for the market of the beef industry is that the low price trend will last until 2019, and NDSU livestock economist Tim Petry says, "the big decline in prices is behind us, and we are currently seeing record meat production in the United States. It is quite difficult to get an increase in prices when the industry has such high production."
When prices skyrocketed in 2014, the southern plains were in a drought, corn prices had lowered and chicken and pork production were both in a lull because of production issues.
However, the profitable period for ranchers did not last long. Chicken and pork production were both able to ramp up quickly because of their reproductive biology.
Chicken has also become more popular with consumers because of the health benefits and the lower price points in the nation's grocery stores. Beef is the most expensive protein that can be purchased in stores, though many consumers deem it worth the price.
Other factors that contributed to the lowering of market beef prices include the southern plains coming out of their drought and returning feedlots back up to capacity, and corn prices stabilizing. Everything happened so fast and the beef market still has not had time to react to market equilibrium, especially on the input cost side.
Along with the high production, the beef cattle industry is also seeing an increase in expenses. While feed has steadily accounted for 60-80 percent of all input costs, ranchers are also seeing an increase in pasture rent. After 2014, record profits got funneled into cash rents for pastureland and since that time, no landowner has wanted to lower their rental price.
Some producers own their pastureland, but they still have to deal with the opportunity cost of letting someone else rent their land. Don Neshem, a rancher for 30 years, observed that it is "frustrating for ranchers to see their rental prices go up because the land that they are renting is the same quality." The output that they are receiving from that land is the same, just at a greater cost per acre.
Along with feed and pasture rent, ranchers also have veterinary bills, labor and a number of other input costs to worry about. Most consumers are not thinking about any of these costs as their meat gets rung up at the cash register, but should they be?
When Rachel Klaphake was asked an estimate on the input cost that goes into a herd of 200 cattle per year, she said, "$5,000." No one is to blame that Ms. Klaphake had no idea of the input costs, but at the same time half the farmers in rural North Dakota may not know what Klaphake pays for her Starbucks coffee in the morning.
It's a two-way street. The general public does not always seem to know what is going on in the agricultural sector of the world, but that doesn't mean they don't care.
Taylor Kunz, a junior at UND, wanted ranchers to know, "I don't know much about ranching—I do appreciate all they do very much! It's not easy by any means and I feel like the public doesn't give them as much appreciation as they should.
Taylor is right, a rancher's life is not an easy way to live, but one that influences consumers' lives every day. Beef producers' lives are influenced by consumers' tastes and preferences, which create the overall demand for their product.
Meat production is booming in the United States and the export market is increasing. Producers have to make decisions in their operations for the benefit of the consumer, not just their pocket.
The North Dakota (and United States) beef industry as a whole is thriving and there are only good things to come from a group of wholesome producers. Tim Petry says, "The market is volatile, but beef producers are made to adapt."