​I may just be suffering from Lunacy!
by Logan Macrae | .(JavaScript must be enabled to view this email address) | All About Food | June 21st, 2017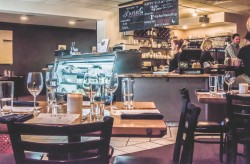 On a sultry Thursday night, I sauntered into Luna. Situated on South University next to Bernie's Beer and Wine, it isn't exactly a hole in the wall, but it is certainly off the beaten path, and as described by their motto it is truly the neighborhood kitchen.
The interior is beautiful, but also versatile. As you enter there is a large display case full of cheeses from all over the country. It's reminiscent of the glowing from a chest of buried treasure, and every time I walk in it's like a cinematic euphoria. I have sampled quite a few of these on previous visits. They vary in flavor, texture, and animal of origin, but are all fantastic. (dependent on the consumers' palate)
Looking past the cavalcade of casein, you'll observe the setup of coffee production and a great selection of both beer and wines. Luna serves a small lunch from 11-1:30pm, but much of its business before 5pm is coffee and small baked goods. This allows for less overhead than a restaurant serving an entire menu all day and evening, and provides focus on the items being presented when dinner arrives.
Luna's dinner menu is released daily at 4:45pm, ever changing and driven by local fare and in-season produce. The dinner menu is extraordinarily creative and well planned. The team of Ryan Nitschke and Shea Syverson can thoroughly throw down!
On this particular Thursday, the restaurant was celebrating the kick-off of "Restaurant Week" with a three-course meal for a very reasonable price. This included a soup or salad, one of two entrées and a dessert.
When ordering beverages, I was pleasantly surprised that when I asked what wine paired well with the entrée that I intended to order; the manager recommended a beer. The overall acknowledgement of the validity of beer pairing with entrees is underwhelming. Luna has been known to host beer dinners, and I appreciate their outward thinking.
For my starter I chose the Rabbit, farro, and Morel mushroom soup. It was fantastic. The broth was subtle, and smooth. The rabbit tender, and it all come together beautifully. This was obviously made with care and devotion to the dish to blend individual flavors and produce a very polished and decadent product.
The next course was the entrée. I'm a carnivore, so I went with the meat option which was the soy-glazed pork belly served with ramp kimchi, fried mushrooms, radishes and tempura crumbs.
I have never had better pork belly. It was fantastic and nostalgic. It tasted like something that you would find in a neighborhood kitchen. My mother was with me, and she related it to something that her mother would have made in the family Dutch oven.
I noticed that a lot of the entrees and small plates on the menu have a similar feeling of nostalgia, and provide a feeling of home. When coveted family recipes are lost we must find these tastes elsewhere, and Luna is the place for it.
The soy glaze gave a wonderful external crust, while the inside of the pork belly was moist and savory. The addition of the fried mushrooms gave a similar external crunch as a French fry, but also provided lovely umami, and paired amazingly with the soy glaze.
As I'm writing this, I wish I was eating it.
Dessert was another sensory delight. I chose the rhubarb and orange sorbet. I would never have dreamed of pairing these two items, but the culinary team once again surprised me. The flavor was again very reminiscent, and the only way I can truly describe it is that it tasted like orange sour patch kid sorbet. The rhubarb gave that tangy bite, and then the orange was sweet in the finish. Sour, then sweet. This cleansed the palate quite well, and I was left satiated beyond belief.
Luna is a class act. The cooking team is knowledgeable, creative and intuitive. The service was extraordinary, and the atmosphere poetic. Their coffee in the morning is just as craft as the food in the evening. They are honestly the best place in town to get a cold press, because they use coffee ice cubes!
These factors make Luna a well thought out, well planned, and well-oiled culinary machine. Next time you consider going downtown for dinner, head a bit south, and experience something new. Take the road less traveled, because it may just make all the difference.
YOU SHOULD KNOW
Luna Fargo, 1545 University Dr S, Fargo
MTWThF 7am-3:30pm, 5-9pm; Sat 8am-3:30pm, 5-9pm; closed Sunday
701-293-8818; https://www.lunafargo.com/ https://www.facebook.com/lunafargo/?hc_ref=SEARCH&fref=nf