​Just for the Halibut
by Judd Eskildsen | .(JavaScript must be enabled to view this email address) | All About Food | May 10th, 2017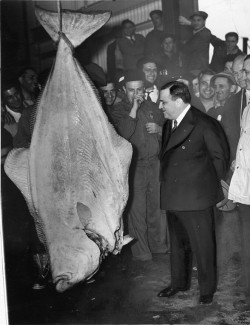 This phrase has been mentioned as a joke many times through my childhood, and I never understood it. It seems that many of the older folks I've known through my life are in love with these giant, odd shaped fish. I however couldn't get past their weird shape, thick skin, unsightly appearance and unique smell. I've always been told that fresh fish smells like the sea. The Halibut that I tasted and cooked in my younger years smelled more like The Red River than the pristine, cold waters of Alaska.
Chef Steven Schulz of The Toasted Frog introduced me to truly FRESH Halibut, amongst other ultra-fresh varieties of fish, and something clicked! These ocean fish are nothing like the "fresh" fish I've tasted in the past, and closer to the Walleye my family and I pull out of Minnesota, North Dakota and Canadian waters. When you get TRUE fresh fish, it is something that will change your life!
Since I met Steve, I've found that fresh fish isn't hard at all to acquire in our area. It's actually really easy, and I can put that fish on a plate at more reasonable prices than coastal restaurants whose fish is just a few hours more fresh than mine. People always ask how I make the fish taste so good, and the simple response is "It's as fresh as I can possibly get, and it's of the highest quality! All it needs is a bit of salt and pepper, and to be properly cooked"
Back to the Halibut. This fish has a heavy flake, that's sweet and bright white. The oil content is very low, making the meat very mild, and comparable in flavor to Swordfish, Walleye, Scallops and some Shrimps and Crab. It's a really great fish for late spring/early summer, when the season opens, paired with peas, sweet corn, bacon/proscuitto/pancetta, Asparagus, etc... When the season comes to a close in the fall, you can find great prices of fresh Halibut, and it pairs well with cream sauces, and heavier fall flavors.
Atlantic and Pacific Halibut vary slightly, but it's no wonder our Scandinavian ancestors named this fish "Holy Flat Fish" with its outstanding yield, pleasing flavor and ability to be paired with almost anything. Although Atlantic Halibut is suffering from years of overfishing like most Atlantic fish, Alaskan Halibut is a sustainable and well managed fishery.
The season opened about a month ago, but the weather in Alaska has been a bit rough, look for FRESH Alaskan Halibut on the menu in the higher end restaurants in town very soon, and ENJOY this Scandinavian delicacy!
[Judd is the Executive Chef at Proof Artisan Distillers]